Hello folks and welcome to
Ingredients (for one serving, I'm home alone ya know):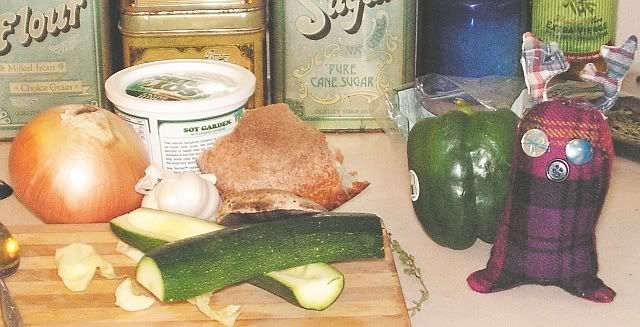 1 Zucchini, cut lengthwise and with the guts scooped out. save the guts.
1/2 cupish chopped onion
1/4 cupish pepper
1 small portobello mushroom
1 clove garlic
tsp or so of nutritional yeast
chunk of bread (or about a handful of breadcrumbs)
salt and pepper
1/2 tablespoonish of olive oil plus a drop or two more to oil the baking sheet
sprig of thyme, or any other herbs you might like
margarine (optional)
also, feel free to add whatever veggies into this you have lying around.

Preset the oven for 375 degrees.



I cut up mushrooms and zucchini guts while Squidgy takes on the green pepper
Heat up a skillety type pan to medium high and add the olive oil.


Add onions, peppers, zucchini guts and salt to the pan and let them sweat until the onion turns translucent but is still somewhat firm. If you have a Squidgy, gaze in awe as he wrestles with an alligator and is watched by a completely useless diver.When the onions are done, add the mushrooms and turn off the heat. Toss the mushrooms so they get mildly cooked by the heat still left in the pan.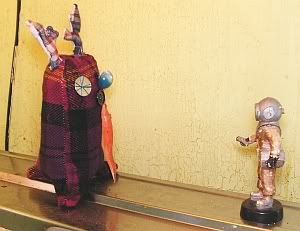 the battle rages on...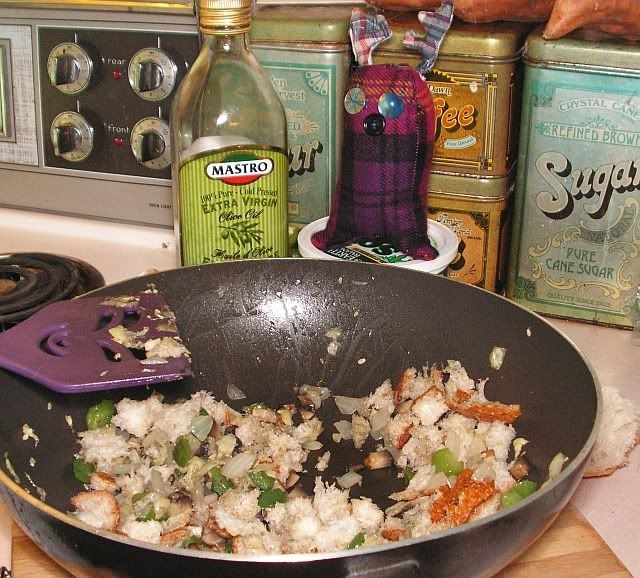 Tear off about a handful of small chunks of bread. You can use whatever kind of bread you'd like. I am using a crusty bread that was bestowed upon my household from the great dumpster gods. Add the small bread chunks and the nutritional yeast to the pan and mix so the bread absorbs any liquids. If you think the stuffing is too dry, add a teaspoon of water or broth.



put a few drops of oil on the baking sheet underneath the zucchini and salt and pepper the insides.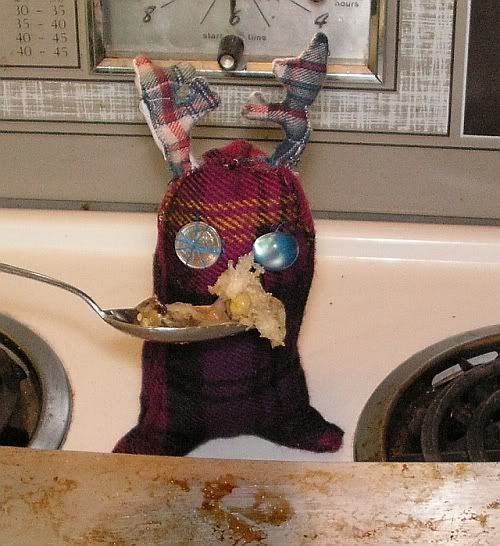 taste the stuffing to check the seasoning. Add salt and pepper if necessary.


Stuff the zucchini with as much stuffing as you can get in there.
I added a few little dots of margarine on top of the stuffing to help brown it, but you don't have to.

Put it in the oven and...


maybe play some freecell...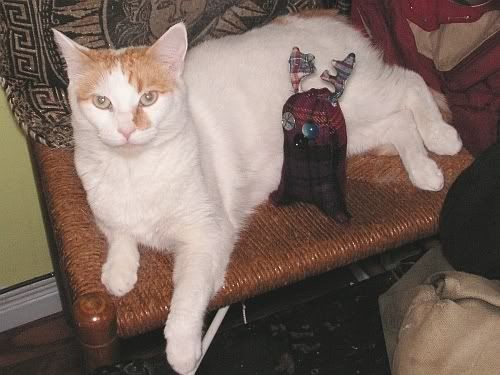 or pet the cat for about 20 minutes.
I personally like my zucchini somewhat crunchy but that's just personal preference. If you want it squishier, try 25 minutes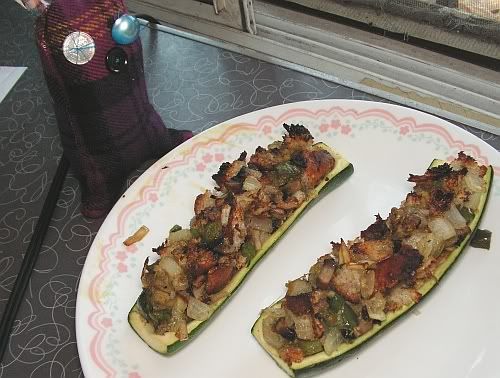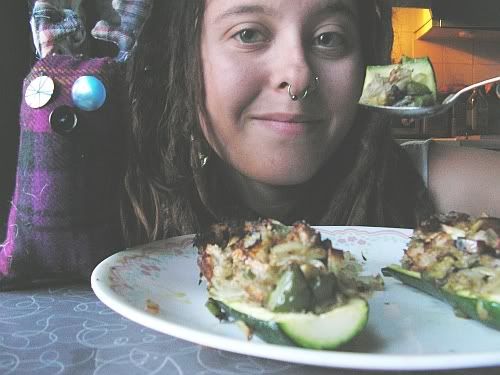 commence face shoveling!