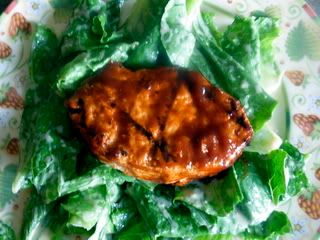 As an omni I pretty much lived on grilled chicken caesar salads (gross, I know). After going veg I searched high and low for a good vegan dressing-in-a-bottle to put on some romaine lettuce and nothing really struck my fancy. So I decided to try making them at home...and for the most part, they didn't turn out so great. But I came across this recipe in the controversial Skinny Bitch in the Kitch. While I was quite disappointed with the cookbook on a whole (too much reliance on pseudo meats and cheeses for my taste and not my cup of tea in terms of vegan lifestyle), this caesar dressing is by far the closest to the 'real thing' that I've tasted.

I also cheated and bought frozen chick'n which I smothered in sticky and sweet bbq sauce. YUM :D





Ingredients

4 oz silken tofu
6 tbsp lemon juice
3 cloves garlic
2 tbsp vegan parmesan cheese
1/2 tbsp dijon mustard
2 tsp vegan worcestershire sauce
1/2 tsp salt
1/2 tsp pepper
3/4 cup extra virgin olive oil

Directions
1. In a food processor, combine the tofu, lemon juice, garlic, cheese, mustard, worcestershire sauce, salt and pepper and process until smooth. With the motor running, slowly drizzle in the olive oil. Use immediately, or refrigerate for up to one week.