There is nothing better than being full and pleased with oneself! It makes me so happy. I'm full because I ate some Lentil soup that I made, I'm pleased because I made it all by myself (and yes I gave myself a pat on the back!). I'm very proud because it's the first ever soup I've made! It was loosely based on a "Vegan-A-Go-Go" lentil soup recipe. But I played around with it, but most certainly not completely my recipe!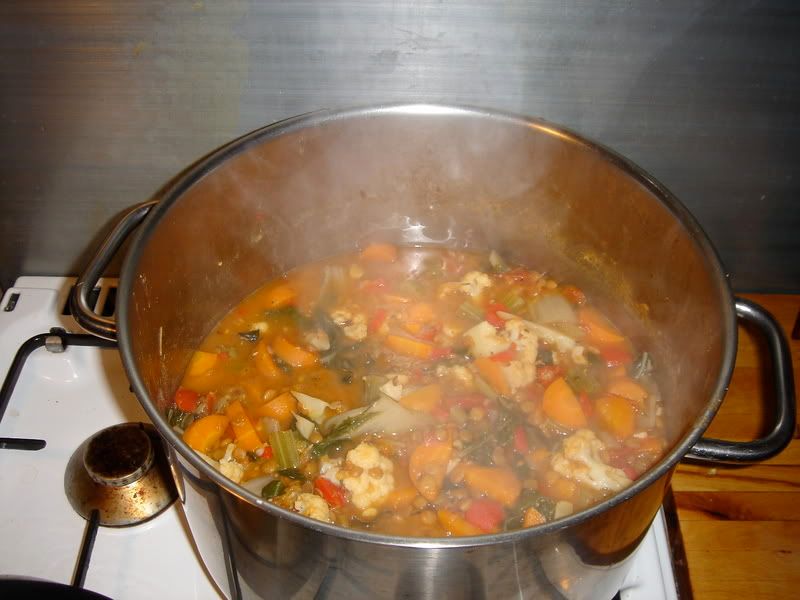 Type your cut contents here.
(I hope that cut worked, it's been very long since I included a LJ-cut - mods if it didn't I'm very sorry!)

Recipe:
Ingredients:
1lb (450g) Lentils
2 quarts (2L) Water [ Or 1 quart of veggie broth)
4 celery ribs
4 Carrots
2 Onions
6-8 Cloves of Garlis
1 can of Diced Tomatoes (14 oz/.41L) [ I used about 6 mid sized fresh tomatoes]
1 tsp Oregano
3 sprigs Thyme
2 Bay Leaves
1 pinch Cayenne Pepper
Salt & Pepper
1 lb Baby Spinach
splash of Lemon Juice

My Modifications: 1 Head of Cauliflower, 2 large red peppers, Bok Choy ( I think, the only other leafy green I could find), I added a splash of vinegar. I also used a lot more herbs - I felt the broth wasn't flavourful enough, so I added more herbs to taste. I also added some Olives, and I used half flax seed oil and half veg oil in the beginning.
This was originally meant for a slow cooker, but I cooked it on a stove with dried lentils and everything turned out fine.

Steps:
1. Brown garlic, onions, carrots, celery and peppers.
2. Add tomatoes, liquids and spices. Bring to a boil.
3. Add lentils, boil or simmer for about 35-40 mins.
4. Add spinach/leafy green and lemon juice, cauliflower and olives and simmer until cauliflower is tender.
5. Enjoy with a delicious crusty bread!!!