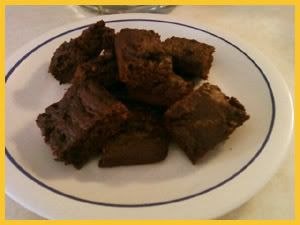 Bakes 12 brownies.

1/2 cup flour.
1/2 tsp. baking powder.
8 tbsp. cocoa powder.
2 1/2 tbsp. warm water.
1 tbsp. vanilla extract.
1/2 tsp. instant coffee.
2 tbsp. soy margarine.
3/4 cup sugar.
1/8 tsp. sea salt.
1/4 cup blended silken tofu.

Preheat your oven to 350 degrees.
Whisk flour and baking powder in small bowl. In separate bowl, whisk cocoa, water, vanilla, and coffee. Whisk melted margarine, sugar, and salt together. Whisk in cocoa mixture, then blended tofu. Stir in flour mixture. Pour batter into greased 8"x1" square baking pan. Bake 20-25 minutes, or until toothpick can be removed cleanly.