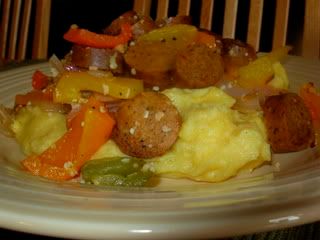 I'm not a huge fan of the book Skinny Bitch in the Kitch but this is one of the greatest 'comfort food' recipes we've tried in a long time. I grew up on polenta, so I'm always making it, especially this time of year when it gets chilly :)






Ingredients
12 cloves garlic
4 bell peppers, sliced
2 onions cut into strips
2 tbsp coconut or olive oil
1 tsp fine sea salt
1/4 tsp pepper
4 vegan Italian sausages, sliced
4 cups low sodium vegetable stock
1 cup polenta (corn meal)
1/3 cup vegan parmesan cheese

Directions
1. Preheat oven to 425F
2. In a large bowl, combine the garlic, bell peppers, onions, oil, salt (optional) and pepper, tossing to coat. Transfer the mixture to a rimmed baking sheet and cook for 20 minutes, until the garlic and vegetables are tender.
3. Stir in the sausages and cook until the vegetables and sausages start to brown, 15-20 minutes.
4. Meanwhile, in a 2-3 quart sausepan over medium-high heat, combine for cups of the stock and bring to a boil. Add the polenta in a thin stream, stirring constantly.
5. Return to a boil, reduce to a simmer, cover and cook until the polenta is tender, 8-10 minutes. Remove the saucepan from heat and stir in the parmesan cheese.
6. Transfer to serving bowls and top with the sausage/vegetable mixture. Top with additional parmesan if desired.