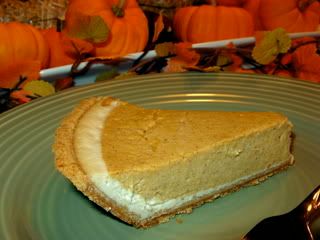 Thanksgiving is on Monday here in Canada and I wanted to try out a new dessert that's a little different from pumpkin pie, so I thought I'd give it a dry run before the big family dinner. This cheesecake recipe is from Fat Free Vegan.



8 ounces Tofutti Better Than Cream Cheese
12 ounces light firm silken tofu (or extra-firm)
1/2 cup agave nectar (or sugar)
2 tablespoons cornstarch
1 1/2 tablespoons lemon juice
1/2 teaspoon vanilla

1/2 cup pumpkin puree (canned, not pumpkin pie mix)
2 teaspoons rum (optional)
3 tablespoons brown sugar or natural sugar
1/2 teaspoon cinnamon
1/4 teaspoon ginger
1/4 teaspoon grated fresh nutmeg (please!)

1 pre-made 8-inch graham cracker crust

Preheat the oven to 350F.

Put the first set of ingredients (toffuti through vanilla) in a food processor and puree until completely smooth. It should be silky smooth--not chalky or lumpy.

Remove a cup of this mixture from the processor and spread it in the bottom of the crust.

Add the next set of ingredients (pumpkin through nutmeg) to the ingredients remaining in the food processor and process until well blended. Smooth it carefully over the white layer in the crust, heaping it slightly in the middle. Bake until the center is almost set, about 45-55 minutes. Remove from the oven and allow to cool. Refrigerate until completely chilled, at least 3 hours.