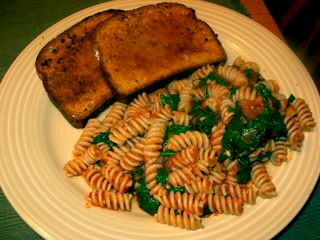 This one is another one from Eat, Drink and Be Vegan.





PASTA:

1 1/2 to 2 tbsp olive oil
1/2 cup onion, diced
4 large cloves of garlic, minced
1/2 tsp sea salt
Freshly ground pepper to taste
1-2 tsp water (optional)
1/3 cup red or white wine
1 (28 oz) crushed tomatoes
1/2 tsp dried oregano
1/2 tsp dried marjoram
1 tsp dried basil
1 tsp agave nectar
1 lb dried noodles of your choice
6-8 cups spinach leaves

1) In a large pot on medium-low heat, add oil, onion, garlic, salt and pepper and stir to combine. Cover and cook for 5-7 minutes (if needed, reduce heat or add water to prevent garlic from burning). Uncover, increase heat to medium-high and stir in wine. Allow to boil for one minute, then add tomatoes, oregano, marjoram, basil and agave nectar. Reduce heat to medium-low, cover and simmer for 15 minutes.

2) Meanwhile, cook noodles according to directions.

3) After simmering the sauce for 15 minutes, uncover and reduce heat to further simmer for another 5-7 minutes to thicken.

4) Remove sauce from heat, add spinach and stir to combine until spinach is just wilted and still vibrant green. Drain pasta and spoon sauce over pasta (or toss through).

Makes 3-4 servings.

GARLIC BREAD:

4 slices of bread, frozen
1 large clove of garlic
1 1/2-2 tbsp Earth Balance (or other non-dairy margarine)
2-4 pinches seasoning salt
2-3 tsp nutritional yeast

1) Preheat oven to 400F

2) Remove bread from freezer and while still frozen, firmly rub garlic clove over one side of each slice of bread so it is lightly coated.

3) Spread on margarine. Sprinkle on salt and nutritional yeast. Bake for 8-9 minutes until lightly golden and fragrant.