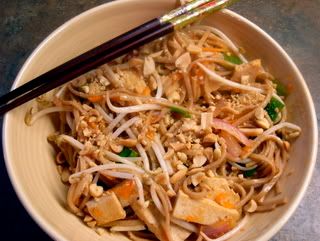 Every so often I come across a new pad thai recipe and I have to try it .. as it's my most favourite food in the whole world. This is my favourite one that I've come across so far. It's not super traditional, but delicious nonetheless. I think the website said it originally came from Skinny Bitch in the Kitch.





1 pack udon or soba noodles (I use the spelt kind, yum!)
1/4 cup agave nectar
1/4 cup mirin (or a cooking sake/rice-based wine)
3 tbsp ketchup
3 tbsp tamari
1 1/2 tbsp lime juice
1 tbsp sriracha
2 tbsp cooking oil of your choice
1 pack extra firm tofu
1/2 red onion, sliced into 1/4" slices
2 gloves garlic, minced
3 green onions, chopped
1 carrot, shredded
1/4 cup chopped peanuts
2 cups bean sprouts

1) Cook noodles according to directions.

2) Whisk together the agave, mirin, ketchup, tamari, lime juice and sriracha and set aside.

3) Heat the oil in a wok over high. Add the tofu and stir fry until browned (approx 5 minutes). Add the red onion and stir fry for 30 seconds. Add the garlic and stir fry for 30 more seconds. Add the noodles and sauce and stirfry until the noodles are softened and evenly coated with sauce. Add the vegetables and combine. Garnish with peanuts and bean sprouts.

Makes 4 servings.