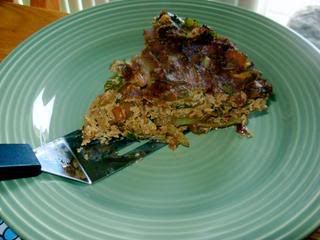 I randomly found this recipe on about.com when looking for ideas for nutritional yeast as an ingredient. It's delicious!! Perfect for breakfast or lunch. It kind of tastes like quiche :)





Ingredients:

1/4 cup olive oil
1 onion, chopped
4 green onions, chopped (separate the greens from the bottom)
4 cloves garlic, minced
2 medium potatoes, thinly sliced
1 tsp salt
1/2 tsp pepper, divided
1 12 oz package firm tofu
1/4 cup soy sauce
4 tbsp nutritional yeast

Preparation:

Preheat oven to 325 degrees. In a large frying pan, sautee the onions, garlic, and bottoms of the green onions in olive oil for 2-3 minutes. Add potatoes, salt and pepper, and sautee for 10-15 minutes, stirring occasionally until potatoes are golden brown.

Blend tofu, soy sauce, and nutritional yeast in a food processor or blender until well mixed. Mixture will be somewhat thick. Add green onions and potatoes and pour into a greased pie pan.

Cook 45-50 minutes, until top is firm and cooked all the way through.