My Nana, who's just been diagnosed with a slew of nutritional deficiencies, is staying with my family for a week so that we can feed her up and send her back home healthy. This is TOUGH. Like, feeding a four year old babysitting charge("twooo more bites? oooone more bite?") tough.
She's not just picky - she harbours a genuine, honest to goodness fear of food. Anything unknown is absolutely off-limits; anything green, doubly so.

Obviously, this has been a real adventure. Last night, however, took the cake. Having spent the afternoon (the entire afternoon!) listening to her balk about how my Dad put a piece of spinach on her sandwich at lunchtime, we decided that the only way to get veg into her was to hide it. I thought I'd start easy, with a nice homemade spaghetti sauce, and puree some spinach into it.

Wanna see how it turned out?? I call this picture 'OH CRAP GUYS CRAP DON'T LET NANA IN HERE AWWWW GEEZE'.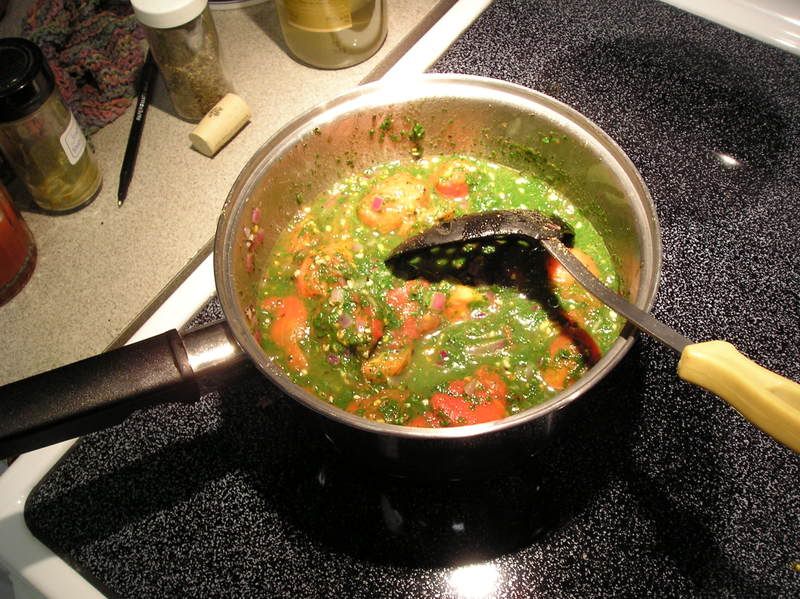 It took everything red and edible we could find to turn it back to normal. aaack!

Anyone have any better ideas for camouflaging foods? Does anyone else who cooks for pickypantses feel weird about being so clandestine?