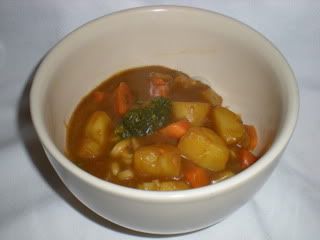 This can be made easily with whatever vegetables and grains you have on hand! Eggplant Curry Rice is another one of my favorites!

Ingredients

* 1/2 package Japanese Curry(Golden, Vermont, etc etc)
* 3 cups water
* 1/2 cup carrots, chopped
* 1/2 crown broccoli, chopped
* 1/2 large sweet potato, chopped
* 1/2 pound firm tofu, cut into squares
* 1/2 large white onion
* 1 package udon noodles
* Olive oil

1. Cook onions in olive oil until softened in the bottom of a large pot. At the same time, bring water to a boil and cook the udon 20 minutes then strain.
2. Add other vegetables and water to the pot, bring to a boil, then lower heat and allow to simmer for 15 minutes or until veggies are tender.
3. Break up curry blocks and stir until completely dissolved. Stir until thick and bubbling, then serve over udon noodles.