So I had my dad and his girlfriend over for dinner tonight - a plan I'd made several days ago without the slightest anticipation that I might, you know, get sick. (Get sick?! Preposterous! I haven't gotten sick in four years!) I was sitting at the dinner table just picking at what otherwise would have been an amazing meal (chickpea cutlets, slow-cooked collards, twice-baked potatoes) and counting down the minutes until they'd go home and I could go back to bed. Then the timer went off on the oven. Ding ding! I removed the product of my leftover soymilkshake ingredients and distributed it with little fanfare because, you know, I was ready for sleep. But as soon as my fork hit my mouth, I could not stop eating that cobbler. I wanted to ralph real hard, but it was so good, I didn't care, and I just kept eating and eating and eating.



I'm writing the recipe as it's written up in the book. Instead of blueberries, I used strawberries and peaches, and instead of melted EB, I used room temperature EB.

For the Biscuit Dough
- 1 1/3c all-purpose flour
- 3 T granulated sugar, divided
- 1 1/2 t baking powder
- 1/2 t salt
- 5 T non-dairy butter, melted
- 1/2 c non-dairy milk
- 1-2 T of non-dairy milk or butter for brushing on top

For the Filling
- 4-5 c blueberries
- 1/2 c granulated sugar
- 2 T all-purpose flour
- 1 t grated lemon zest (optional)

Preheat the oven to 375. Have ready an ungreased 8- or 9-inch square baking pan or 8x10-inch rectangular baking pan at least two inches deep.

To make the biscuit dough, sift together the flour, two tablespoons of the sugar, the baking powder, and the salt. Then add the milk and butter, and stir just until it forms a sticky dough.

Put your fruit in a separate bowl. Mix with the sugar and flour (and lemon zest, if you're using it). Spread evenly in the baking dish. Then spread the biscuit dough out across the top of it and gently brush with milk/butter and the remaining tablespoon of sugar. Pop it in the oven, and let bake for 45 to 50 minutes or until golden brown. Allow fifteen minutes to cool. (Or don't! - because if you serve it right from the pan with a little vanilla So Delicious, it makes the ice cream all melty and delicious, and it's this hot/cold treat in your mouth that is just MIND BLOWING!!)

Here's a picture of the cobbler after it was devoured and proof I couldn't put it down: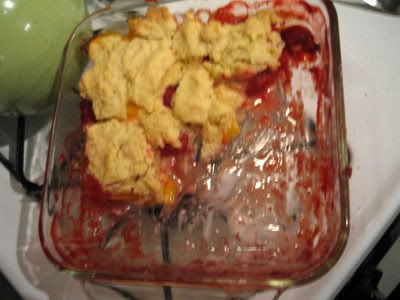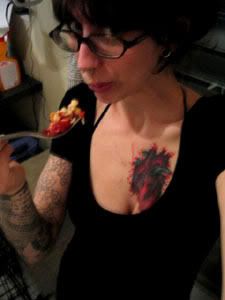 Believe it or not, I'm not that into cobbler - which is extra reason why you must BELIEVE ME when I say this is AMAZING. Now go make some! Snap snap!