I made these for the weekend, these cupcakes have always been a hit in the past, this time I modified them to make them gluten free, for my girlfriend. They tasted just as good as with regular flour, here is a picture and under the cut is the recipe, modified from Vegan Cupcakes Take Over The World.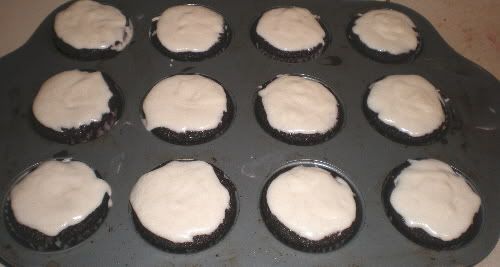 Cupcake Mix

1 c rice milk
1 tsp apple cider vinegar
1 1/4 c brown rice flour
1 c sugar
2 tbsp cocoa powder
1/2 tsp baking powder
1/2 tsp salt
1/3 c canola oil
2 tbsp red food coloring
2 tsp vanilla extract
1/4 tsp almond extract
1 tsp chocolate extract (or increase vanilla to 2 1/2 tsp and almond extract to 1/2 tsp)

Whisk the rice milk and vinegar together to curdle. Sift together dry ingredients in a large bowl. Add the other wet ingredients to the curdled rice milk. Fold wet ingredients into dry. Bake at 350 degrees for 18-20 minutes.

Frosting recipe

2 tbsp brown rice flour
1/2 c rice milk
1/4 c shortening
1/4 c margarine (I use EarthBalance vegan butter)
2 tsp vanilla
1 c superfine or castor sugar

In a small saucepan over medium heat, whisk together rice milk and brown rice flour. Stir constantly until it thickens to a pudding like consistency. Remove from heat and cool 2 min. Transfer to a large bowl and cover with plastic wrap (right on top of the custard to keep skin from forming). Cool completely. Cream together everything but the custard, then beat in the cold custard. Beat for 4-6 min.

Wait for cupcakes to cool and spread frosting on top :> Cool and eat away nom nom nom!!!!