This recipe is from the "Eat Yr Veggies" zine.
Nutty "Freedom" Toast

1/4 cup raw walnuts (I used pecans)
1 2/3 cup hot water
1 teaspoon cinnamon
1/2 teaspoon nutmeg
1 teaspoon vanilla extract
pinch salt
1/4 cup sweetener (I used maple syrup)
2 tablespoons oil
6-8 slices of hearty bread, wonder bread is too porous (I used 12 grain)

Soak the nuts in hot water for 15 minutes, drain. Blend the soaked nuts with water, cinnamon, nutmeg, vanilla, salt, and sweetener in a blender til smooth. Pour the mixture into a shallow dish.

Heat the oil in a large skillet over medium heat. Dip the bread slices into the mixture and cook each side until golden brown. Serve hot with sliced bananas and apple sauce or margarine and maple syrup.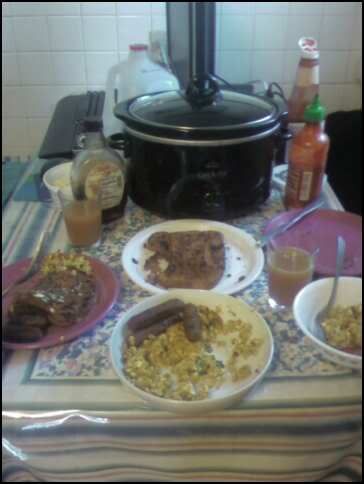 We also had tofu scramble and veggie links. Yumm. This french toast was way better than the non-vegan ones I used to eat!