Banana Bread with Chocolate Chips

1/2 C vegetable oil (you can always use 1/4 C oil and 1/4 C applesauce to cut back on fat)
1 cup sugar
2 TBS cornstarch + 4 TBS water
2 tsp almond extract (or vanilla, your choice)
3 bananas, already mashed
2 cups all-purpose flour
1 tsp baking soda
1/2 tsp salt
1 cup SunSpire mini chocolate chips


Mix together the oil and sugar then stir in the mashed bananas. Add in the cornstarch, water, extract,flour, baking soda, and salt and mix thoroughly. Fold in the chocolate chips last. You can use a normal 9x5x3 loaf pan or, like me, an 8x8 pan.

Bake at 350 degrees F for 45-60min, checking regularly to make sure it doesn't burn (ovens vary so it could take longer). Remove from pan after 10 minutes and move to a wire rack to cool completely.


Ta-Da!




(I usually split the bread in half making 2 4x8 "loaves" to slice up)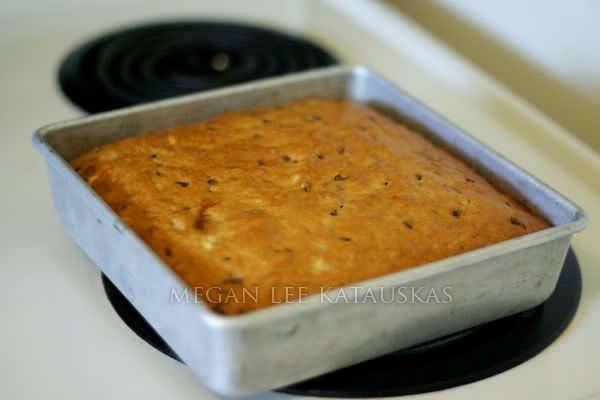 I found that if you eat this while it's still warm it tastes pretty lame, but once completely cooled it's ADDICTIVE. Be careful.