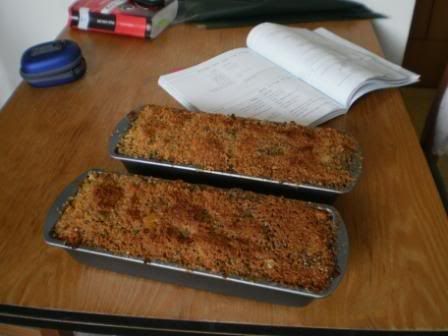 soak overnight: 100gr white beans
100gr green or black lentils
100gr red lentils

cook this mix for 60 minutes, then filter the water away.

peel and chop: 2 large carrots
2 middle-sized onions

slice: 2 leeks (you can also use peppers, like in the original recipe but I hate
peppers so I used leeks)
2 celeries (optional)

fry the vegetable on a small fire for 10 minutes with 4 spoons of canola oil.

add: 200gr of wheat groats
2 spoons of mashed tomatoes
2 finely chopped tomatoes

mix with the vegetables to the bean mix and pour the whole thing into a baking dish. Sprinkle some more wheat goats over the top and then sprinkle some more canola oil over that.

Bake for 30 minutes in 190c 375f. Eat yum yum.