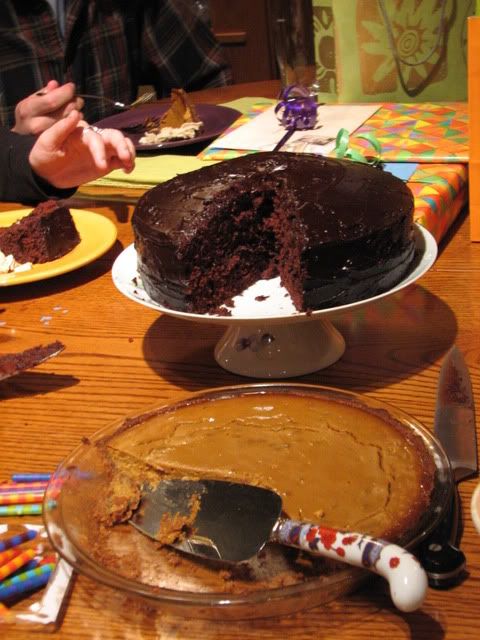 Pumpkin Chocolate Chip Muffins
(anotheronebitesthecrustblog.com)*

1 cup whole wheat flour
1/2 cup whole wheat pastry flour
3/4 cup brown sugar
2 tsp baking powder
1/2 tsp baking soda
1 1/2 tsp spice mix (cinnamon, clove, nutmeg)
1/2 tsp more cinnamon
1/2 tsp salt
1/3 cup chocolate chips
3/4 cup almond milk (or any nondairy milk)
1 cup pumpkin puree
1/2 tsp vanilla
1/4 tsp almond extract


1. Preheat oven to 350F. Grease or line 12 muffin cups.
2. Combine dry ingredients in one bowl.
3. Combine wet ingredients in another bowl.
4. Mix both together. Pour into muffin tin.
5. Bake about 20 minutes, until toothpick comes out clean.

*I may have changed the original recipe a bit, but I can't remember. You can find the original recipe on the blog I posted.



Chocolate Cake (2-layers!)
(from Richard on vegweb.com)

3 cups flour
2 cups sugar
6 tbsp cocoa
2 tsp baking soda
1 tsp salt
2 cups water
3/4 cup vegetable oil
2 tbsp vinegar
2 tsp vanilla

Preheat oven to 350F.
Mix dry ingredients first.
Add wet ingredients to dry mixture.
Stir just until lumps disappear.
Pour into either two 8x8" pans or one 9x13" pan.
Bake 35-40 minutes.
Let cool before icing and stacking.



Chocolate Icing
(Sarah on vegweb.com)

1 cup sugar
6 tbsp cornstarch
4 tbsp cocoa
1/2 tsp salt
1 cup water
2 tbsp oil
1/2 tsp vanilla*

Mix sugar, cornstarch, cocoa, and salt in a medium saucepan.
Whisk in the water.
Heat over medium until boiling. Boil 1-2 minutes, stirring constantly.
Remove from heat, stir in oil and vanilla.
Spread on cool cake.
Makes enough to cover two 8x8" round cakes or one 9x13" cake.

*I used coffee extract!



Sweet Potato Pie
(adapted from veganconnection.com/recipes/pumpkin_pie.htm)

2 cups pumpkin puree*
1 cup nondairy milk
3/4 cup brown sugar
1/4 cup cornstarch
1 tsp molasses
1 tsp cinnamon
1 tsp vanilla
1/2 tsp each: ginger, nutmeg, and salt
1/4 tsp cloves

Preheat overn to 350F.
Have one 9" unbaked pastry crust.
Mix everything together and pour into pie shell.
Bake 60 minutes. Cool on a rack and refrigerate at least a few hours (overnight is best).

*I used sweet potato

Graham Cracker Crust
("Veganomicon" by Isa Chandra Moskowitz)

12 graham crackers (1 3/4 cups crumbs)
1/4 cup oil
1 tbsp soymilk

Mix everything together and press into a pie tin or glass baking dish.