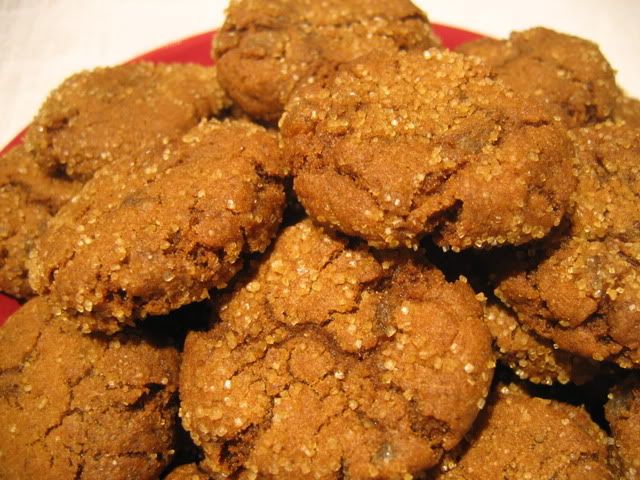 These are SO GOOD. I'm definetely going to make these for the holidays and roll them in red and green sugar. The only thing I have to add is that I had to bake them a couple minutes longer. After 6 minutes, I pulled them out of the oven and flattened them a bit with my fingers because they were still in ball-form, and I wanted them flatter. Then I baked them another 2 minutes or so.

Here's a link to the recipe (I love this blog!): http://hellyeahitsvegan.com/?p=710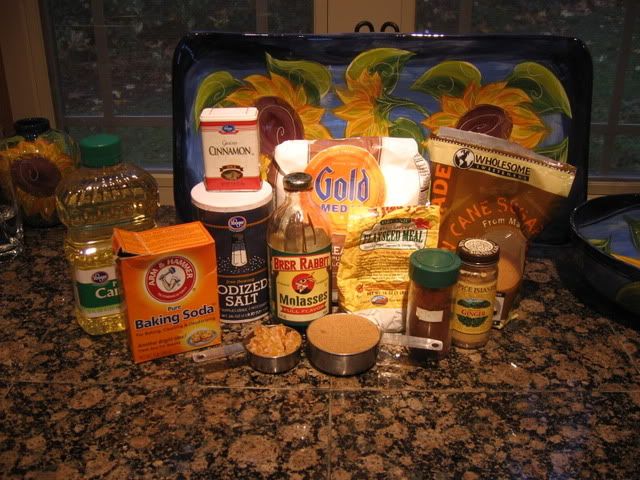 Classic Molasses Cookies
Yield: about 2½ dozen 2″ cookies

2/3 c vegetable oil
¼ c blackstrap molasses
2 tbsp ground flax seeds whisked into 3 tbsp warm water
1 c brown sugar
2 c flour
½ tsp salt
2 tsp ground cinnamon
1 tsp ground cloves
1 tsp ground ginger
1 tsp baking soda
½ c crystallized ginger, diced
granulated sugar for coating

Preheat oven to 350°. Whisk together oil, molasses, flax seeds mixed with water, and brown sugar. In a separate bowl, sift together remaining ingredients (except for crystallized ginger and granulated sugar).

Combine wet and dry ingredients; mix well.

Fold in crystallized ginger. Refrigerate, covered, until firm, about 1 hour. (It's fine if some oil separates; you can just stir it back in later.)

Shape cookie dough into 1″ balls, and roll in sugar to coat. Bake for ~6 minutes on ungreased cookie sheets.