This is another recipe from the good old Guardian. It is from their 'kitchen click-along' series, where you are meant to make the recipe live at the same time as the chef posts it. That's way too high pressure for me, I just followed the recipe another time! The recipe was pretty much vegan already. Check out the Guardian link for more photos etc. I have pinched a couple of theirs because my camera isn't charged.

Allegra McEvedy's Kitchen Clickalong: Moroccan Filo Pie

From prep to plate in just one hour.

Ingredients

1 packet filo pastry
2 medium sized courgettes
1 white onion
1 small butternut squash
Big handful of coriander
Half a pat of vegan margarine
Couple of lemons
Handful of ground almonds
Handful of pinenuts
Handful of sultanas / raisins / dried chopped dates
200g lentils, brown or green
1-2 tbsp harissa paste (or some smoked paprika will do instead)
Little bit of agave
Few cumin seeds (or ground)
Few coriander seeds (or ground)
Glug of extra virgin olive oil
Salt and pepper

8pm: Peel and roughly dice the squash - around inch-ish chunks.

8.05pm: Preheat your oven to 190. Whilst your oven is preheating put the handful of pinenuts onto a baking tray into the oven to gently toast as it comes up to temperature.

8.06pm: Take a quarter of your marg and put in a wide pan. When it has melted put in the squash chunks and gently fry them.

8.11pm: Once they have had a good roll in the marg put some salt on, give it a good stir, add about a cupful of water (200ml), keep it on top heat and put a lid on.

8.12pm: Chuck the lentils into a pan and cover them with cold water, about twice as much volume as the lentils and put this onto a high heat with a lid.

Have a look at your pinenuts and give them a shake.

8.14pm: Wash and then grate your courgettes on the big holes. Spread them out onto a wide plate and sprinkle on 3/4 of a tablespoon of salt, preferably sea salt.

8.16pm: NUTS ... should be ready to come out.

Now get a small frying pan stick it on a medium flame. Put in the coriander seeds and cumin seeds to dry toast.

8.19pm: Toss them gently in the pan for a minute until you can smell them and they start to just colour.

When your lentils are up to the boil turn them down to a simmer keeping the lid on.

8.20pm: Your seeds should be smelling like the spice souk - lob them in with the squash.
Melt the rest of the marg in the same pan the seeds just came out of - no need to wash.

8.23pm: Check the squash, it should be beginning to break down a bit. If it's looking a bit sticky dribble in a tablespoon or so of the melted marg - it depends how starchy your squash is, harlequin needs it butternut won't.

8.25pm: When the squash is soft enough run a masher over it a few times and taste for seasoning.

8.26pm: Peel and grate your onion on the large holes - this is not fun for the eyes - don't worry if there are a few larger pieces.

Squeeze it out over the sink and chuck it into the squash which should now be off the heat.

8.27pm: To finish it off add the ground almonds and agave (about a tablespoon).

Give it a quick stir and taste.

8.29pm: Take the lid off your lentils and taste them. As soon as they are cooked drain them. If they are no where near turn the heat up so they are simmering faster.

8.32pm: Now squeeze out the water from your courgettes, you should make about 3 balls. Mix it with your pinenuts, a squeeze of lemon and the sultana or raisins.

8.36pm: Brush a baking tray (about 30cm square) with melted marg. Unwrap your filo and lay it out on to your table. Brush the tray with marg then lay 3 sheets of filo as in the picture brushing marg onto the filo between each layer.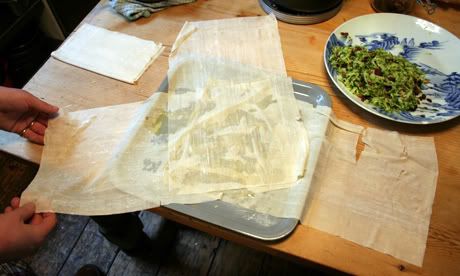 8.38pm: Put all of your squash mix into the middle and spread it out into a circle. Lay another 3 sheets on top of the other sheets making sure you brush them each with marg.

Give your courgettes one last squeeze as one big ball and then spread out on top of the squash.

8.42pm: Then bring all the sticking out flaps up and collect them on top in a bustle. Shape the outside briefly with cupped hand to make sure it's nice and round. Then drizzle and brush the rest of the melted marg on top and round the sides too.

Pop this in the oven.

8.49pm: Now have a 5 minute clear up.

8.56pm: Mix the lentils with the coriander, extra virgin, harissa and some lemon juice. Taste and season with thought.

9.05pm: Keep an eye out for the pie to be ready – when it is golden brown on top it is ready.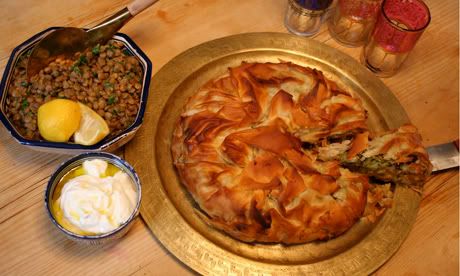 Note: I used a lot less marg and salt than the recipe.

http://www.guardian.co.uk/lifeandstyle/wordofmouth/2009/nov/12/vegetarian-moroccan-filo-pie