I made banana bread tonight! It's delicious. I think this is probably my second or third time making banana bread, which is ridiculous. That being said, I'm no b-bread expert, but here is my banana bread recipe, adapted from Isa's on ppk
http://www.theppk.com/recipes/dbrecipes/recipe.php?RecipeID=121

I wanted to make it healthier so I could justify eating a slice or two for breakfast and feel okay with it.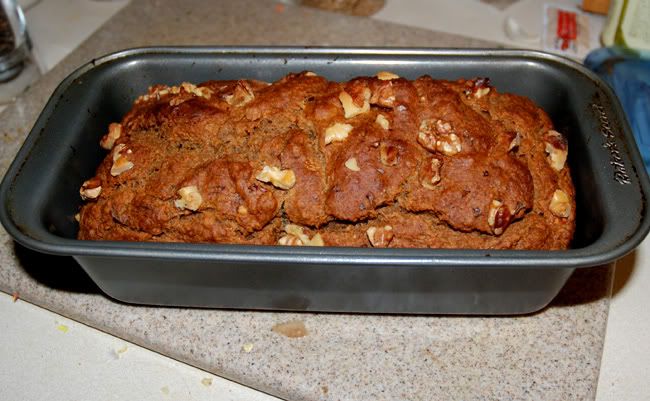 dry
1 cup whole wheat flour
1/2 c all purpose flour
1/2 c spelt flour
1-2 Tb flax meal
1/2 ts baking soda
1 ts cinnamon
1/4 ts allspice
1/2 ts salt

mix it all!

wet
3 bananas (2 of mine were frozen)
1/4 c maple syrup
< 1/4 c oil
aboouut 1/2 c applesauce, probably a little less (should have measured, I know)
1/4c soymilk plus 1 ts apple cider vinegar
1 ts vanilla

mash the bananas while the soymilk&vinegar sits, then whisk everything together

add wet to dry, mix in chopped walnuts, and bake at 350 for about 60-70 minutes




Verdict: it is really tasty, not too sweet, and very moist. Almost a bit too moist? Maybe I should have baked it for a bit longer, or something. Really good with Purely Decadent's Turtle Trails! (omg)