These were outlandishly delish. Soft & squishy & a little cakey. Maybe I was a bit enthusiastic with the cinnamon (big surprise) but otherwise, holy nom.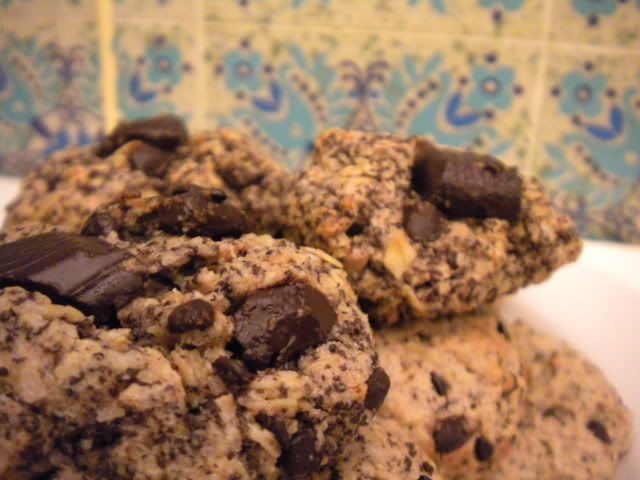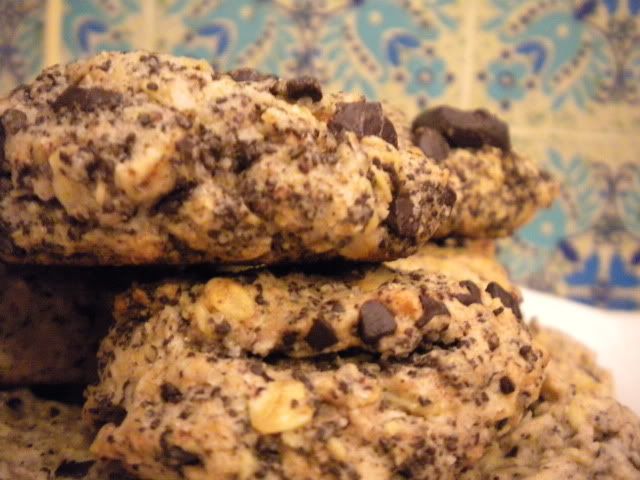 3/4 cup flour
3/4 cup oats
1/2 cup brown sugar
1/3 cup dessicated coconut
1/3 cup poppyseeds
1/4 cup soy milk (this was approx... I added less to begin with then just added as needed)
2 or 3 big tablespoons vegan marg (again, approx)
1 tsp baking powder
1 tsp egg replacer
2 or 3 tsp cinnamon
1 block (100g) dark chocolate

Put the chocolate inside a few plastic bags & bash the crap out of it with a heavy, blunt object (I used the iron bar the feller keeps beside the bed in case of "emergencies"). Cream the marg & sugar together, add the soy milk. Mix together the dry ingredients in a separate bowl & mix together with the sugared marg/soya & chocolate. Dollop on to a baking tray & bake for ten minutes at high temp (no numbers on our oven, sorry!). Don't leave em any longer!