I remember someone asking recently about Shepherd's Pie. Since that what I'm having for my tea tonight I thought I'd post the recipe I always use.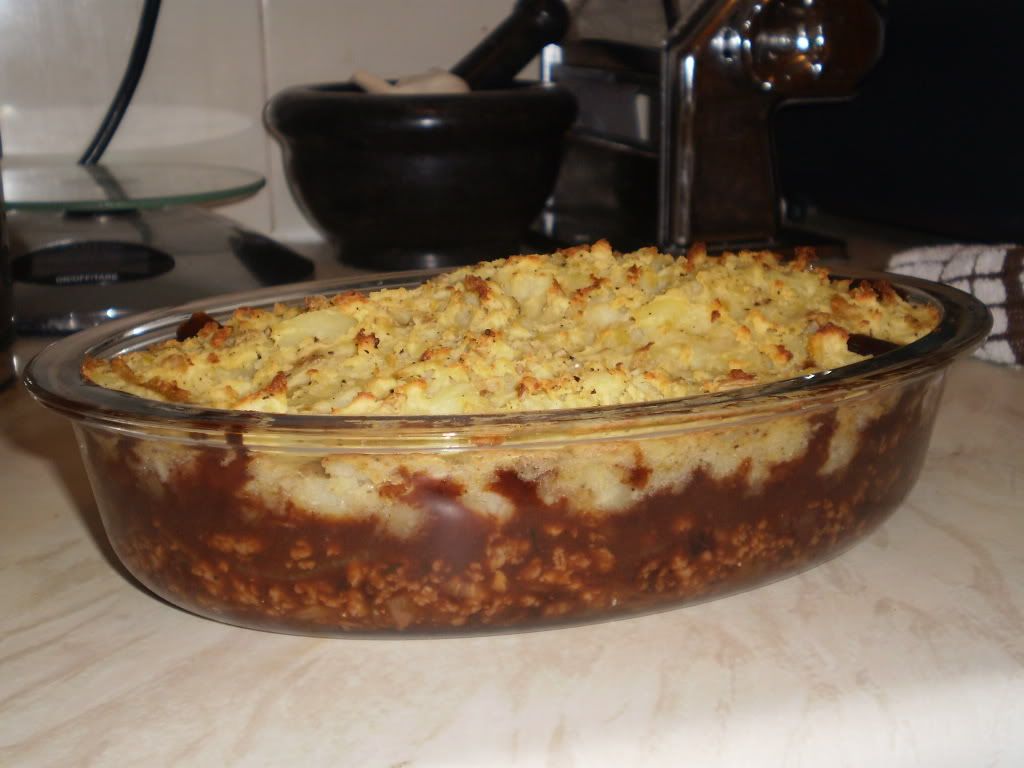 25ml/2fl oz olive oil
650g/1lb 7oz soya mince
3-4 banana shallots or 7-8 small round shallots, finely chopped
4 sprigs fresh thyme, leaves only
2 tbsp tomato purée
1 tbsp plain flour
150ml/5fl oz red wine
400ml/14fl oz 'beef' style stock (I use Bisto, which I appreciate it's hard to get hold of outside of the UK, but I know a lot fo other places stock 'beef' style stock and a thinner stock, as opposed to thicker Bisto granules might actually be better anyway)
salt ( I don't think you can beat Maldon Sea Salt Flakes) and freshly ground black pepper
Worcestershire sauce, to taste ( I use Good Life Fish Free Worcestershire sauce)
For the mash
900g/2lb King Edward potatoes, peeled and chopped (so says the recipe, but I always leave the skins on for the extra fibre)
115g/4oz margarine (I used Vitalite)
Maldon sea salt flakes and freshly ground black pepper


Heat a pan over a gentle heat, add the olive oil and fry the shallots and thyme for 2-3 minutes, or until just softened. Stir in the tomato purée and flour and cook for a further minute, then add the soya mince.
Deglaze the frying pan used to cook the shallots with the red wine, scrapingup any caramelised bits with a wooden spoon. Cook for 3-4 minutes, or until the wine has reduced by half, then pour the wine into the pan with the soya mince.
Add the stock to the pan and leave to simmer for 45 minutes, or until the mixture is thickened. Season, to taste, with salt, freshly ground black pepper and a few dashes of Worcestershire sauce. Keep warm over a very low heat.
Preheat the grill to high.
For the mash, place the potatoes into a pan of salted water and bring to the boil. Reduce the heat and simmer for 12-15 minutes, or until the potatoes are tender.
Drain and return the potatoes to the pan, then place over the heat for about one minute to drive off any excess moisture. Mash well with a potato masher or ricer, add the margarine beating to form a smooth mash. Season, to taste, with salt and freshly ground black pepper. To serve, place the mince mixture into a baking dish and pipe (or just pile on) the mash over the top. Place under the grill for 8-10 minutes, or until the top is golden-brown.

I halved the quantities as I was only cooking for two. If the soya mince you use is freezer friendly, it's also a good one to make in advance for the nights you don't feel like cooking.