Sorry I'm posting this after the holidays, but these are really good anytime of the year ;) I made two batches this month and they're all gone now!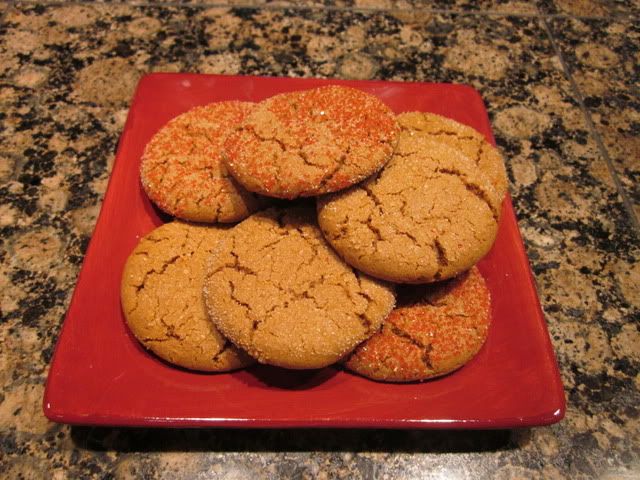 Sparkled Ginger Cookies
from "Vegan with a Vengeance" by Isa Chandra Moskowitz

4 tbsp sugar (I used red sprinkles, too)
2 cups all-purpose flour
1 tsp baking soda
1/4 tsp salt
2 1/2 tsp ground ginger
1/2 tsp ground cloves
1/2 canola oil
1/4 cup molasses
1/4 cup soymilk
1 cup sugar
1 tsp vanilla

Preheat oven to 350 F. Pour 4 tbsp sugar/sprinkles onto a dinner plate and set aside. In a medium bowl, combine flour, soda, salt, and spices. In a large bowl, combine everything else. Add dry ingredients to wet. Roll into 1-inch balls, flatten into 1 1/2-inch disks, press tops into sugar on plate. Place cookies sugar-side-up on cookie sheets, an inch apart. Bake 10-12 minutes. Let cool on sheets 3-5 minutes before moving cookies to cooling racks.