for anyone who grew up in australia, maybe you remember CHEEZEMITES? for anyone not exposed to vegemite (or marmite i guess) from an early age, you might find this disgusting, unless you're my boyfriend (who is from & has lived in austria all his life) who somehow overcame the key developmental age-introduction factor for vegemite appreciation.

anyway, my vegemite stash only ever began after i started living outside of australia. lately i found myself thinking wistfullyyyy of cheezemites, those vegemite-cheese-roll-things & realised it wouldn't exactly be rocket science to make them vegan.

& HOLY CRAP they were delicious. cooking photos & instructions behind the cut.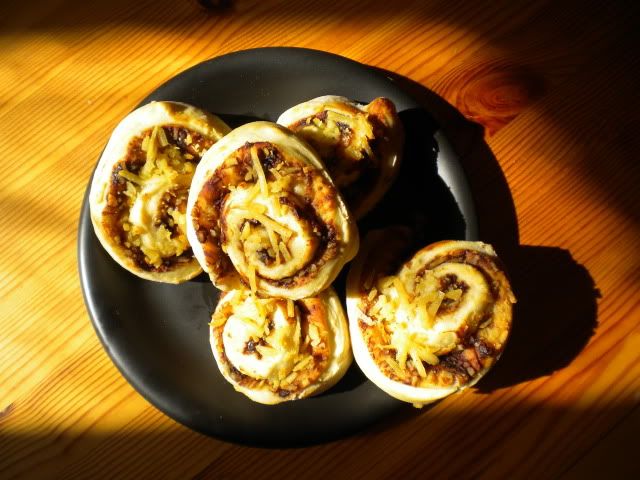 1. we made the basic bread dough we always make for bread, which we never measure - it's just your basic flour, water, pinch of salt, dash of olive oil & cube of yeast recipe. let the dough stand in a warm place with a teatowel over the bowl for 45 minutes to an hour, then roll out on to a baking tray. cover in vegemite & vegan margarine!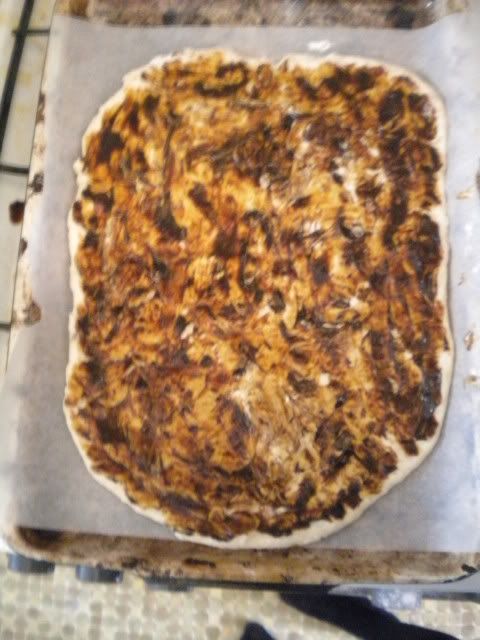 2. cover in grated "cheese". i can't remember what brand we used, i think it was made in germany?




3. roll the dough up to form a long scroll then, with a sharp knife (it helps if you dip it in flour), slice it in to narrow rolls. arrange on the baking tray.




4. bake in the oven for... i think it was about 20 or 25 minutes, our oven seemingly has only one (very hot) temperature. we put extra veg cheese on halfway through on top but i would probably just put this on at the beginning next time, i forgot slow veg cheese melts.

we tried the same formula the next day, but with onion & pepper instead of vegemite & they were UNBELIEVABLY DELICIOUS TOO.