I made this cake today and wanted to share the link to the recipe because it was so good!
http://hellyeahitsvegan.com/?p=1739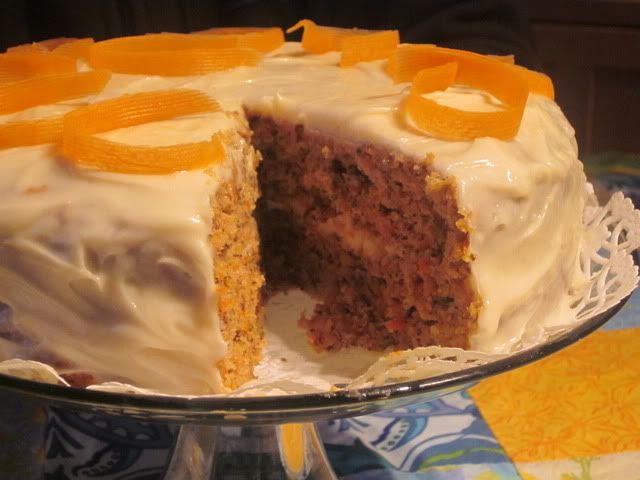 Classic Vegan Carrot Cake
yields 2 8×8″ cakes (or 2 9″ round cakes)

2 1/3 c all-purpose flour
1 tsp baking powder
1½ tsp baking soda
1 tsp cinnamon
½ tsp nutmeg
½ tsp salt

6 tbsp flax seed meal
3/4 c warm water
1½ c sugar
1 c oil
1 tsp vanilla
2 c shredded carrots
1 c walnuts, chopped

Cream Cheese Frosting
8 oz vegan cream cheese
¼ c margarine, softened
1 tsp vanilla
2 c powdered sugar

Preheat oven to 350º. Line two 8×8″ pans with parchment paper. In a small bowl, sift together dry ingredients (flour through salt). In a large bowl, whisk together flax seed meal and water. Beat in sugar and oil. Add vanilla and carrots and mix until combined. Add dry mix and stir until moistened. Fold in walnuts. Pour equal parts into pans. Bake for 18-20 min, or until a toothpick comes out clean. Let cool in pans 10 minutes.

For the frosting, beat together cream cheese and margarine. Add vanilla and powdered sugar; whip until smooth. (Don't overbeat; in my experience, store-bought vegan cream cheese has a tendency to get runny.)

Use a knife to loosen edges of cake from pans. Using parchment paper, lift cakes out of pans. Carefully remove parchment paper from one cake. Frost cake, layer, and decorate with a marzipan carrot (brush a little cocoa powder into the indents for some realism). Serve chilled.



*Changes I made: I substituted 1/2 cup applesauce for half the oil in the recipe, cut down on the sugar by about 1/4 cup, and left out the walnuts, but the cakes were still perfect.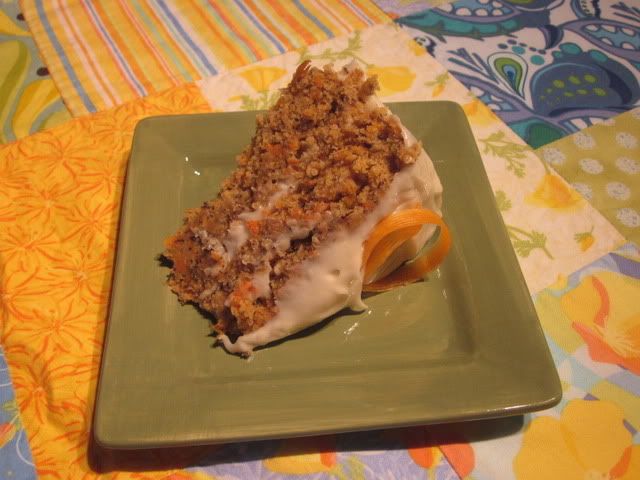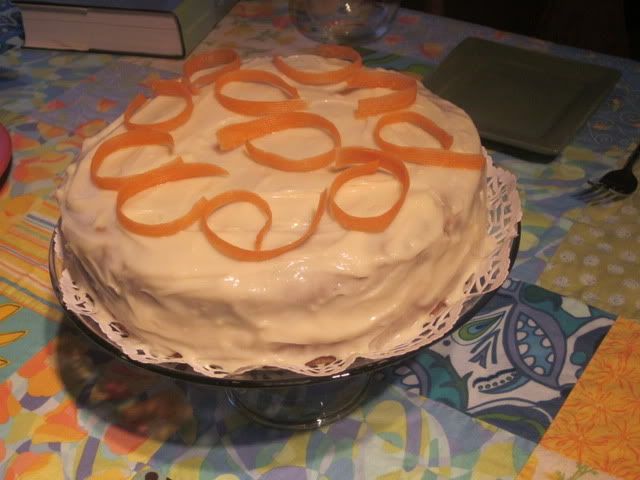 Haha, those are carrot curls that we added for a little color.