I already had pizza on the brain today, so when I came across this recipe in
veganpeople earlier, it seemed like it was meant to be. I also had gone on a slicing rampage with my mandoline, so I needed to work in a ton of fresh vegetables as well. So I went to work with a 500 degree oven on a 100 degree day, and the result was worth the sweat.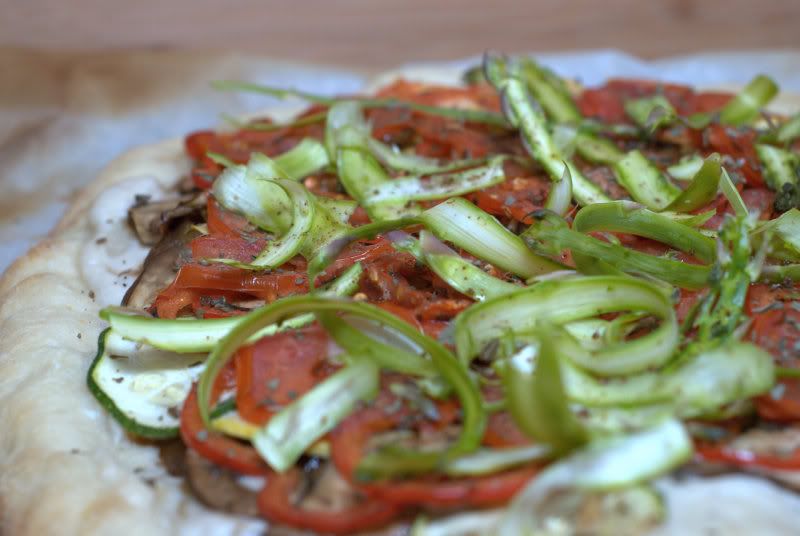 Pizza dough (makes two 14-inch pizzas):

1/2 cup warm water (110-120 degrees)
2 1/4 tsp (1 envelope) rapid rise yeast
1 1/4 cups room temperature water
2 Tbsp olive oil
22 oz bread flour (about 4 cups)
1 1/2 tsp salt

Pour warm water into a large measuring cup. Measure the yeast into the warm water and let stand about 5 minutes. Add the room temperature water and oil and stir.

Combine flour and salt in the bowl of a stand mixer. Using the paddle attachment at low speed, slowly pour in the liquid ingredients. When the dough becomes a mass, stop the mixer and replace the paddle attachment with the dough hook. Knead on low speed for about 5 minutes (obviously, this can also be done by hand!). The dough is ready when it is smooth and pliable.

Place the dough in a large lightly oiled bowl and cover loosely with a towel or plastic wrap. Let rise in a warm place (I use the inside of my oven, turned off) for 1.5-2 hours. Punch down the dough to deflate it. Divide the dough into two equal pieces and form into balls (at this point, if only making one pizza, wrap the second ball in plastic wrap, place in a freezer safe ziploc bag, and freeze for up to a month). Cover the dough ball you are using with a damp cloth and let relax for 10 minutes. Shape the dough into a large disc on a large cookie sheet, piece of parchment, pizza peel, whatever. Use lightly floured hands and a cornmeal dusted surface to avoid sticking.

Cashew cream sauce:

1 cup raw cashews
Water
1 shallot, diced
1/2 tsp grated nutmeg
salt to taste

Place the cashews in a blender or food processor and cover with water about an inch over the top. Process until completely smooth.

In a medium saucepan, saute the shallot over low heat until translucent. Add the cashew mixure, 1 cup of water, and a pinch or two of salt to taste. Cook over medium high heat until thickened. Cool in refrigerator. When ready to use, stir in additional water by the tablespoon until the texture is a little runny but not watery.

And, pizza! Finally.

1 pizza crust
Cashew cream
Toppings - whatever your heart desires! I used caramelized onions, mushrooms, zucchini, eggplant, squash, red pepper, tomatoes, shaved asparagus and fresh herbs, but this crust and the cashew cream are incredibly versatile - you can really use anything. I was thinking new potatoes and rosemary would be delicious, too. This is a perfect "empty out the fridge" recipe.

Preheat oven to 450 F. On a pizza stone or cookie sheet, prebake the pizza dough for about 7 minutes. Remove from oven and spread with cashew cream. Add toppings and bake for another 7-9 minutes, until crust is browning on the bottom. Serve and enjoy!

Note: I used very thinly sliced veggies for toppings so I did not precook them. If using larger slices or veggies that take longer to cook (potatoes, broccoli, etc.), steam or saute them until they are almost cooked before adding them to the pizza.

This really was amazing - my partner is edging cautiously toward vegan but keeps getting hung up on pizza. This is the first cheeseless pizza he's ever had and he was totally wowed. The richness of the cashew cream does a great job standing in for cheese, much more so than any fake cheese I've ever had. I wish I'd made a second pizza because we wolfed it down so quickly!