This recipe is a compilation of Tex-Mex awesomeness. I've been excited to try a sweet potato + black bean combination forever but just haven't gotten around to it. I finally cobbled together a couple of recipes to create a plateful of fantastic flavors. I spent my entire dinner getting a little bit of each component on my fork and creating "perfect bites"!

In this dish, roasted sweet potatoes sweeten, black beans with cumin bring the heat, cilantro-lime slaw adds crunch and acid, and a bright corn relish with creamy avocado and juicy tomatoes lends freshness. Since it's full of veggies, only 451 calories per serving, and includes components to make up complete proteins, I'm also going to decree that this meal is healthy (though I'm no expert). Serve it atop your favorite grain for an even more filling dinner. Heck, you could even go crazy and serve the tacos in flippin' taco shells. You know, if you're that kind of person.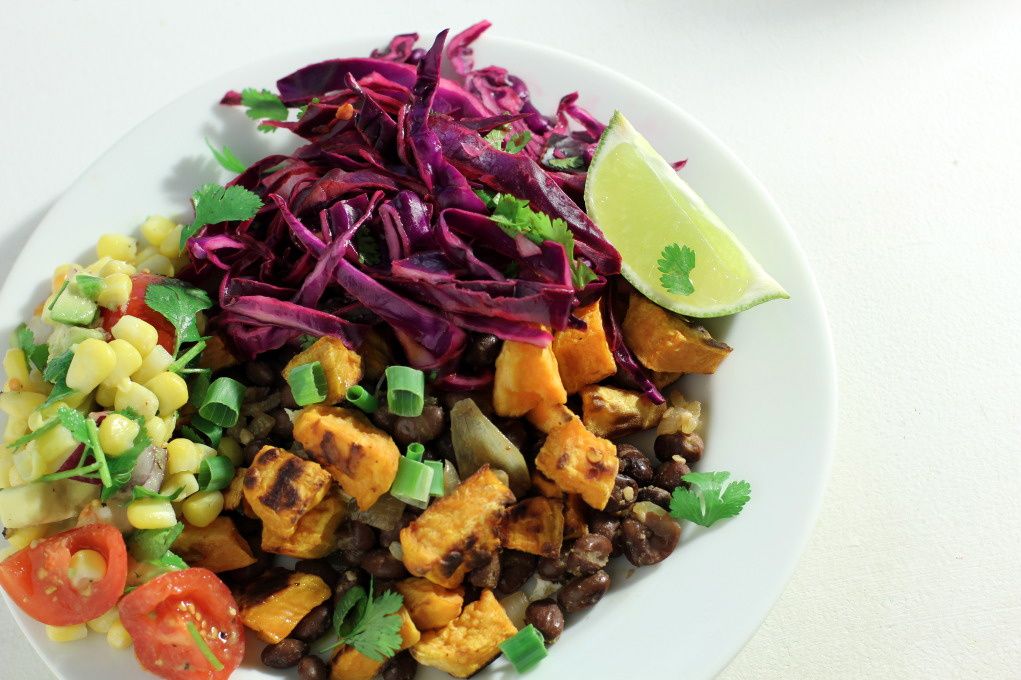 Naked Vegan Tacos with Corn Relish and Cilantro-Lime Slaw
---

Recipe by: Adapted from Joy the Baker and Paula Deen
Yields: 4 servings

Sweet Potatoes Ingredients:
2 sweet potatoes, peeled and cut into small cubes
1 tablespoon olive oil
salt and red chili flakes to taste
juice of 1 lime

Cilanto-Lime Slaw Ingredients:
2 heaping cups finely shredded cabbage
1/4 cup finely diced yellow onions
2 heaping tablespoons chopped cilantro
juice of 2 limes
salt and red chili flakes to taste

Black Beans Ingredients:
1 teaspoon olive oil
1/4 cup finely diced yellow onion
1 teaspoon ground cumin
1 (15-ounce) can black beans, drained and rinsed
juice of 1 lime

Corn Relish Ingredients:
2 cups cooked corn, fresh or frozen
1 avocado, cut into 1/2-inch cubes
1 pint cherry tomatoes, halved
1/2 cup finely diced red onion
1 teaspoon finely diced jalapeno (or to taste)
2 tablespoons olive oil
1 tablespoon fresh lime juice
1/4 cup chopped cilantro
1/4 teaspoon salt
1/4 teaspoon pepper

Optional Extras:
salsa, green onions, fresh cilantro, limes

Directions:
Make sweet potatoes: Preheat oven to 400 degrees F. In a bowl, toss sweet potato cubes with oil, salt, chili flakes, and lime juice. Spread out on a baking sheet. Roast 40-45 minutes (stirring/flipping gently a couple of times during the process) or until tender and brown. Remove the potatoes from the oven and set aside.

Make Cilanto-Lime Slaw: While the potatoes are roasting, place shredded cabbage, onions, cilantro, lime juice, salt, and chili flakes in a bowl. Toss them together and set aside to let the cabbage soften.

Make Black Beans: Heat oil in a saucepan over medium-high heat. When the oil shimmers, add the onions and cook them for a few minutes until they're soft and translucent. Add the cumin and garlic and toast these for a few seconds until fragrant. Finally, add the beans and lime juice and cook until they're heated through.

Make the corn relish: Mix the corn, avocado, tomatoes, jalapenos, and onion in a large bowl. Whisk together the oil, lime juice, cilantro, salt, and pepper in a separate bowl. Pour it over the corn mixture and gently toss.
Assemble: Serve your naked tacos by heaping sweet potatoes and black beans on a place and garnishing with a big spoonful of cilantro-lime slaw and corn relish. Accompany your meal with fresh cilantro, chopped green onions, and salsa.







To read about what nudity has to do with these "tacos," or see why I even call these "tacos," or other such silliness, please head over to Willow Bird Baking!

x-posted to food_porn, cooking, picturing_food, and vegancooking