My mum and I made safra, a date & spice cake from Libya recently. It is pretty much one of my favouritest sweet things ever. Mejdool dates! Oh! Come to my arms!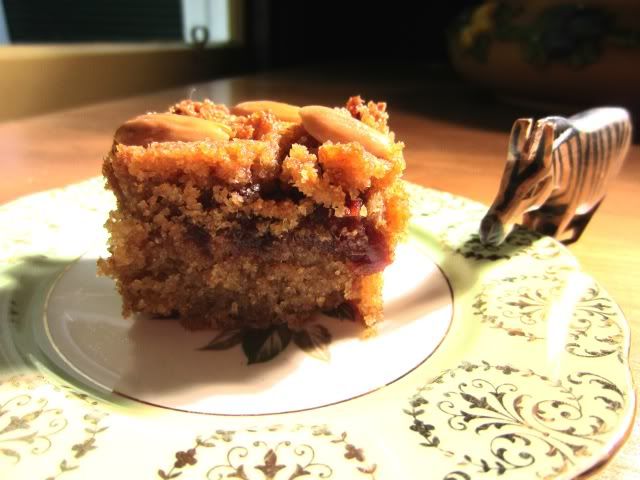 Safra cake
(fyi, this recipe makes a vast quantity of cake - but believe me, that is really a very good thing...)

Date filling:
3 tbsp sunflower oil
700g pitted dates, chopped
1 tsp cinnamon
½ tsp ground clove

Cake:
900g semolina (fine or medium)
450g granulated sugar
2 tsp baking powder
1 cup sunflower oil
3/4 cup water
Blanched almonds or whole cloves, to garnish

Syrup:
1 cup sugar
1/2 cup water
1 cup liquid sweetener of yr choice
Juice of 1 lemon

Heat the oil and dates in a heavy frying pan over a low heat, stirring continuously, for about 20 minutes until a thick paste has formed. Remove pan from the heat and stir in the cinnamon and cloves and allow the paste to cool.

Mix cake ingredients together, except the almonds/cloves, into a thick batter.

Pour half of the batter into a cake tin. Put the date filling over the top, pressing it into the corners of the tin so that it covers the batter. Pour in the rest of the batter and smooth out the surface.

Lightly run a knife over the top of the cake to create a diamond pattern. Press one almond or clove in the centre of each diamond. Bake at 175°C for 45 minutes.

Mix together syrup ingredients in a pot and simmer over a low heat for 10 minutes, stirring continuously. When you've got the cake out of the oven, pour the hot syrup over the top and allow it to absorb. Let the cake sit for at least 6 hours before eating.



If anyone's keen, this recipe is also in my zine Veganistan, that's raising cash for this dog shelter in Iran.