I was heading to a gathering of Charlotte Food Bloggers this week and wanted to make something everyone could enjoy, so I decided to bake a vegan cake. I've baked vegan goods in the past that have suffered for their veganization, but this one sure didn't. It was fantastic!

It's a moist, delicious "butter" cake full of festive cranberries, orange zest, and toasted pecans. The whole thing is slathered with dairy-free cream cheese frosting that, unlike some other vegan frostings I've tried, is a great consistency for spreading. Whether you're a vegan or not, you'll love every bite of this cake. It even passed the Mike test, and he's quite the carnivore.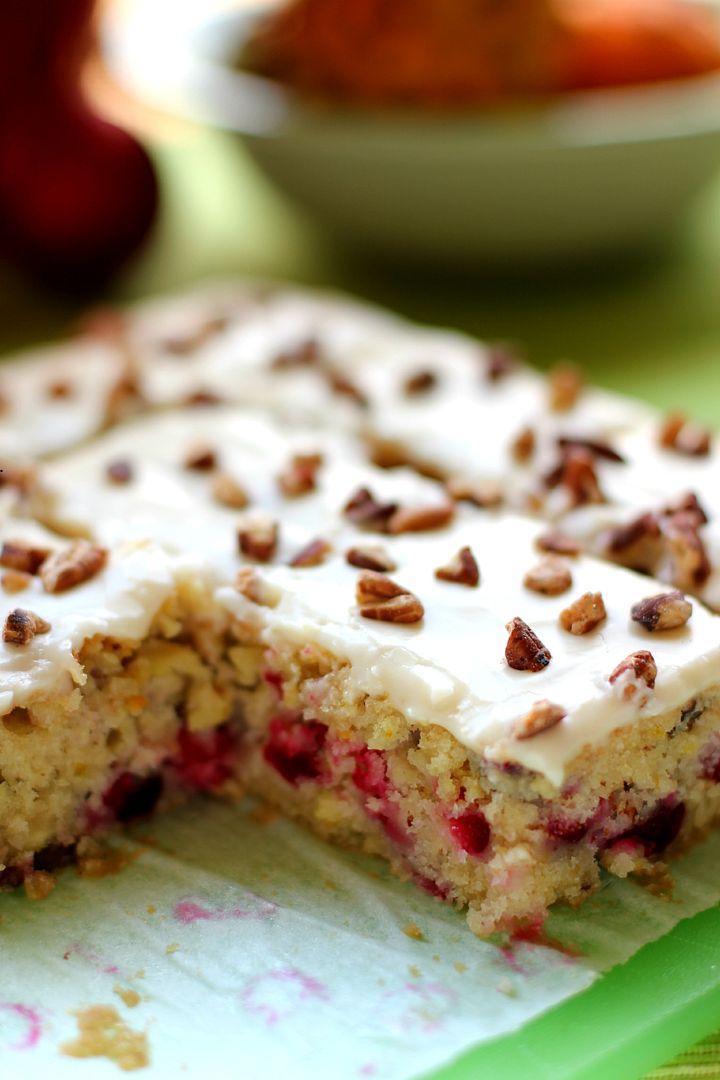 Vegan Cranberry Orange Pecan Cake
---

Recipe by: Adapted from the veganized version by The Tolerant Vegan, originally from Midwest Living
Yield: 9 servings

Cake Ingredients:
3/8 cup Earth Balance Natural Buttery Spread
3/4 cups sugar
1/4 cup unsweetened applesauce
5/8 cup vanilla almond milk
1 teaspoon vanilla extract
1 1/4 teaspoon baking powder
1/2 teaspoon baking soda
1/8 teaspoon sea salt
1 1/4 cups all-purpose flour
1 1/2 teaspoons distilled white vinegar
1 cup cranberries, fresh or frozen, chopped
1/4 cup toasted pecans, chopped (plus more for sprinkling)
1 tablespoon orange zest

Frosting Ingredients:
1 cup confectioners' sugar
2 tablespoons plus 2 teaspoons dairy-free cream cheese, softened (I used Trader Joe's This is Not a Tub of Cream Cheese)
2 tablespoons plus 2 teaspoons Earth Balance Natural Buttery Spread, softened
1/4 teaspoon vanilla extract

Directions:
Preheat your oven to 375 degrees Fahrenheit. Prepare an 8-inch square baking pan by greasing it with Earth Balance and flouring it. Place a parchment paper square in the bottom, and grease and flour the paper as well. (Note: You can double this recipe and make it in a 9 x 13-inch pan).

In a large bowl, cream together the Earth Balance and sugar for 2-3 minutes until fluffy. Mix in the applesauce, almond milk, and vanilla extract. In a separate bowl, whisk together the baking powder, baking soda, sea salt and flour. Add the dry ingredients to the wet ingredients and mix until fully combined.

Mix in the vinegar. Fold in the cranberries, pecans, and orange zest. Pour the batter into your prepared pan and bake for 25-30 minutes, or until a toothpick inserted in the center of the cake comes out with just a few moist crumbs. Allow the cake to cool completely before you frost it.

To make the frosting, place confectioners' sugar, dairy-free cream cheese, Earth Balance, and vanilla extract in a bowl and mix until combined and fluffy. Spread the frosting on the cake, sprinkle with toasted pecans, and serve.









To find out Byrd's new nickname, read about how delicious this cake is, and see more photos, please head over to Willow Bird Baking!

x-posted to food_porn, cooking, vegancooking, veganfoodpics, and bakebakebake