Cherry chocolate Cupcakes

125g soft maragrine
100g dark chocolate, broken into pieces
300g morello cherry jam
150g caster sugar pinch of salt
4 quantities egg relacer whkised up with 3 tbsns water
150g self-raising flour
12-bun muffin tin and papers

Preheat the oven to 180ºC/gas mark 4.
Put the marge in a heavy-bottomed pan on the heat to melt. When nearly completely melted, stir in the chocolate. Leave for a moment to begin softening, then take the pan off the heat and stir with a wooden spoon until the marge and chocolate are smooth and melted. Now add the cherry jam, sugar, salt and 'eggs'. Stir with a wooden spoon and when all is pretty well amalgamated stir in the flour.
Scrape and pour into the muffin papers in their tin and bake for 25 minutes. Cool in the pan on a rack for 10 minutes before turning out.

For the icing melt 110g chocolate and a little agave into 1/4 cup of hazelnut milk and top with an uncoloured glace cherry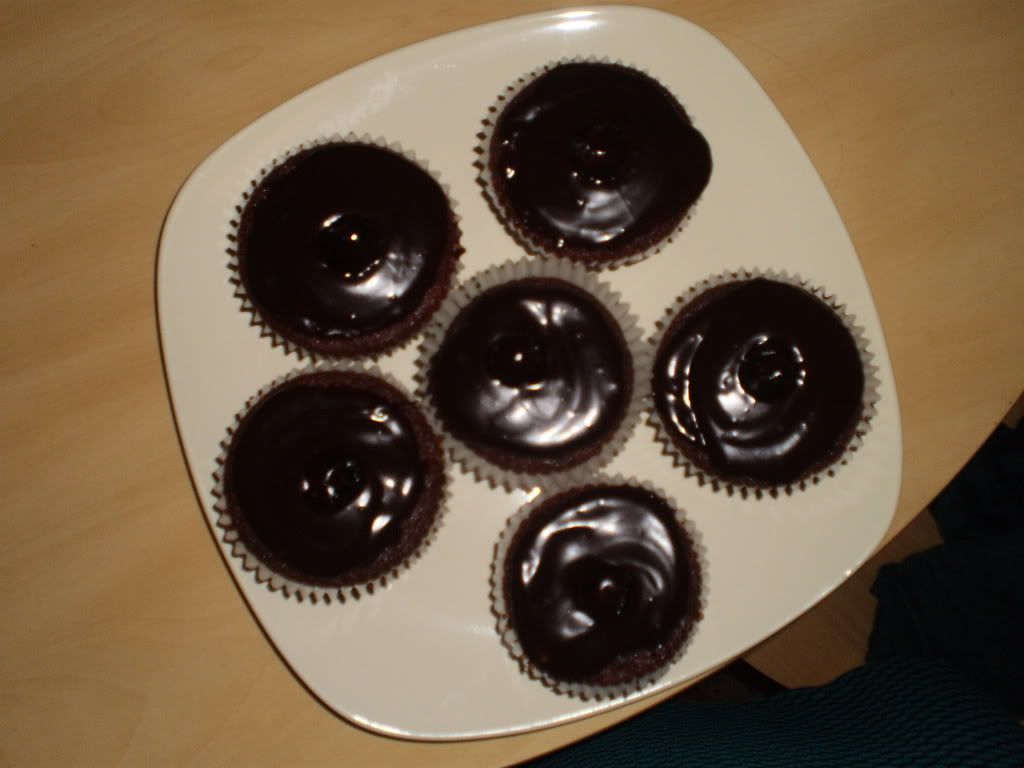 Chocolate Fudge Birthday Cake

200.0g good quality dark chocolate , about 60% cocoa solids
200.0g maragarine
1.0 tbsp instant coffee granules
85.0g self-raising flour
85.0g plain flour
1⁄4 tsp bicarbonate of soda
200.0g light muscovado sugar
200.0g golden caster sugar
25.0g cocoa powder
3 tablespoons of egge relacer power beaten with 3 tablespoons of water
75g Tofutti sour cream
grated chocolate or curls, to decorate

Grease a 22cm round cake tin (7.5cm deep) and line the base. Preheat the oven to fan 140C/conventional 160C/ gas 3. Break 200g good quality dark chocolate in pieces into a medium, heavy-based pan. Cut 200g marge into pieces and tip in with the chocolate, then mix 1 tbsp instant coffee granules into 125ml cold water and pour into the pan. Warm through over a low heat just until everything is melted.
While the chocolate is melting, mix 85g self-raising flour, 85g plain flour, ¼ bicarbonate of soda, 200g light muscovado sugar, 200g golden caster sugar and 25g cocoa powder in a big bowl, mixing with your hands to get rid of any lumps. Whisk up up 3 tablespoons of egg replacer power with 3 tablespoons of water in a bowl and stir in 75g of Tofutti vegan sour cream (or vegan yoghurt or even cream 'cheese' would do).
Now pour the melted chocolate mixture and the sour cream mixture into the flour mixture, stirring just until everything is well blended and you have a smooth, quite runny consistency. Pour this into the tin and bake for 1 hour 25- 1 hour 30 minutes. Leave to cool in the tin (don't worry if it dips slightly), then turn out onto a wire rack to cool completely.

Cover with the same chocolate ganache as used on the cupcakes above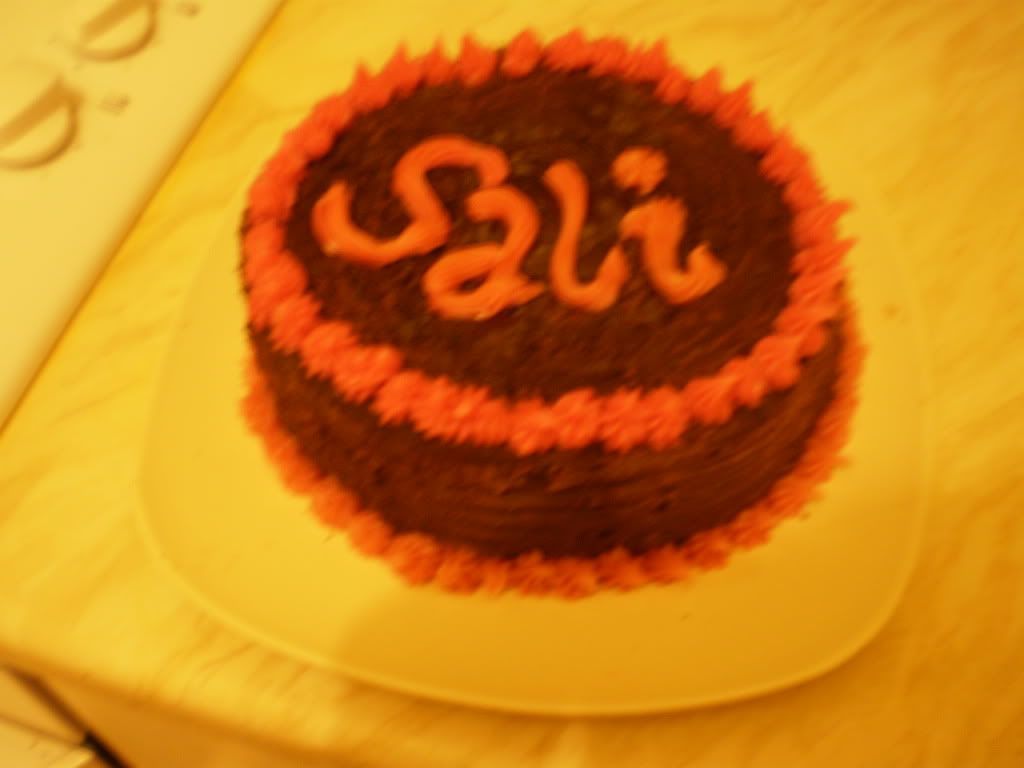 Lemon Drizzle Muffins

2 tablespoons of egg relacer power beaten with 2 tbsp of water
85g/3oz caster sugar
240ml/8fl oz oat milk (I expect any on-dairy milk would do)
100ml/3½fl oz vegetable oil
300g/10oz plain flour
3 tsp baking powder
½ tsp salt
4 lemons, zest only
For the topping
50g/2oz icing sugar
1 lemon, juice only

Preheat the oven to 200C/400F/Gas 6. Line a muffin tin with paper cases. Mix the beaten egg replacer, sugar, 'milk' and oil in a large bowl. Sift in the flour, baking powder, salt and then add the lemon. Roughly mix.
Spoon the mixture into the pre-prepared muffin cases.
Bake for 30-35 minutes until well risen and golden. Cool on a wire rack.
Make the lemon drizzle topping by mixing together the sugar and lemon juice.
Spoon the lemon drizzle mixture over the cooled muffins. If desired, decorate the muffins with sprigs of lemon thyme.