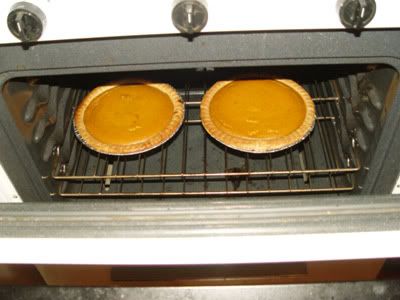 found from : www.vegweb.com

Pumpkin Pie

Ingredients (use vegan versions):

1 1/2 cups soymilk
2 tablespoons Ener-G-Ener-G Egg Replacer
1 16-oz. can pumpkin w/o vegan sugar
1/2 cup vegan maple syrup
1 teaspoon Cinnamon
1/2 teaspoon ginger
2 Vegan pie crusts
Directions:

Preheat oven to 425 degrees. Blend the soymilk and Ener-G Ener-G Egg Replacer together in a bowl using a whisk. Add the remaining ingredients and mix well. Pour into two pre-made crusts (available at some natural food stores and supermarkets). Bake 20 minutes at 425 degrees. Remove pies from the oven and allow to cool before slicing and serving. Makes 2 pies.

"This came out great but the trick is to bake it until you can stick a fork or knife or toothpick or whatever in the center and it comes out clean or almost clean. Also, don't bake it at 425 the entire time. Bake it at 425 for the first 10 or 15 minutes, and then turn the oven down to 350."

Use a little extra pumpkin so it dosent come out watery.