So, thanksgiving was a success. I'm vegan and my brother is a vegetarian, while my parents are hardcore meat-eaters. We had tofurkey, gross real turkey, roasted garlic mashed potatoes, mashed sweet potatoes, corn, cornbread stuffing, vegan brocolli casserole, dairy brocolli casserole, spinach yumminess, peas and mushrooms, canned cranberry sauce, pumpkin pie, pumpkin cheesecake and a apple-cranberry strudel-cake. Amazing!


Just a warning, I never ever measure anything. So, everything I listed is just an approximation. Also, excuse my poor spelling abillities.

Tofurkey.
the glaze was just orange juice, brown sugar, soy sauce and apricot sauce, as directed on the box.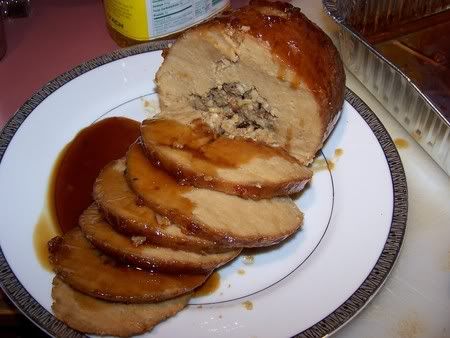 Mashed potatoes:
a couple garlic gloves
red potatoes (use how ever many you need to feed your guests)
2 -3 tablespoons of margerine
1/4 - 1/2 cup of plain soymilk
seasonings (salt, pepper, and garlic powder)

I took a few cloves of garlic, wrapped it in foil and put it in the oven for about 30 minutes until it was slightly brown and the garlic was mushy. While that was going on, I cut up some red potatoes, boiled them, drained them. And then I added margerine, soy milk, salt, black pepper, garlic powder and then the mushed up roasted garlic and just mashed it. Very simple.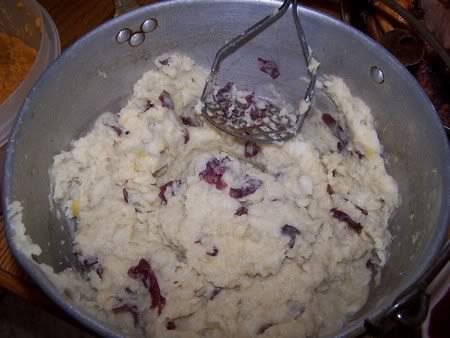 Mashed Sweet potatoes. This was even more simpler, if that's a word.
Sweet potatoes/yams
2-3 tablespoons of margerine
1/4 cup of raw sugar or brown sugar
1 - 2 teaspoons of vanilla
cinnamin

I wrapped a couple of sweet potatoes in foil and baked it in the oven until it was super soft. Took them out and let them cool a bit, then i split them in half and peeled the skin off. Put it in a bowl. Added margerine, raw sugar, cinnamin, and a little vanilla extract. Smushed it up. (You could also peel the potatoes and boil them)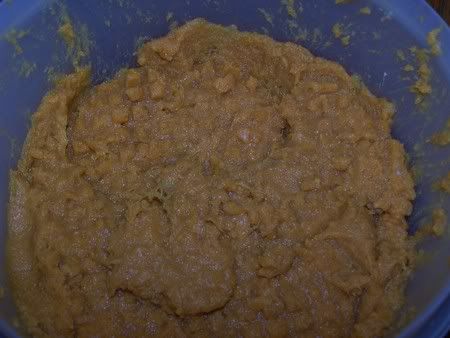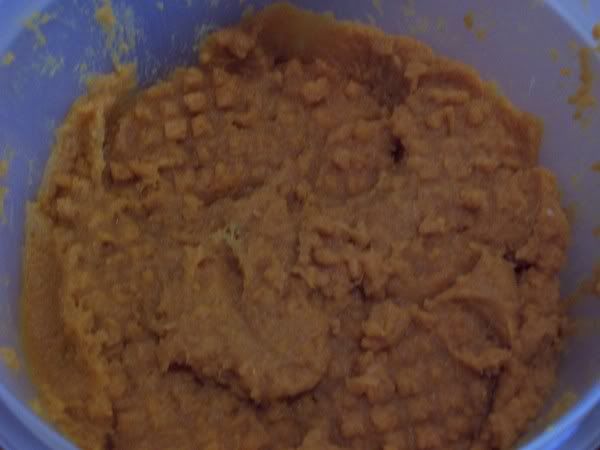 Stuffing:
I used Arnold's brand of stuffing out of pure laziness. But to add a nice touch, I added dill to it for extra flavor. Suggestions: add cranberries and/or apples and/or walnuts.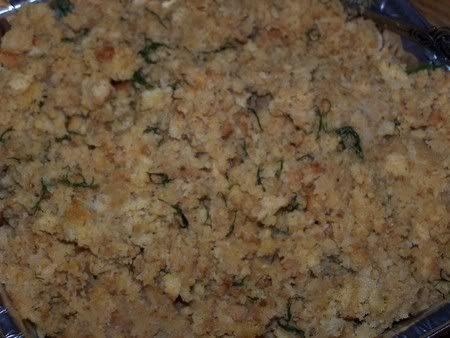 Broccoli and Chreese Casserole:
a packet of Road's End Organic Mozerelle Chreese Mix
about 1/2 cup of plain soymilk
2 tablespoons worth of margerine, melted
1/4 cup of vegan parmesean cheese (optional)
1/4 cup of vegan bread crumbs
1/2 block of Follow Your Heart cheese (I used mozerella)
frozen bag of brocolli
salt, pepper, garlic powder

In a bowl, I mixed together the Chreese Mix, soymilk, melted margerine, salt, pepper, garlic powder, bread crumbs, vegan parmesean cheese, the grated block of Follow Your Heart mozerella cheese, and the frozen brocolli. Mixed it till the brocolli was coated and set it in a pan. Then, I took more vegan bread crumbs and parmesean cheese and sprinkled it on top of the brocolli. Baked it at 425 until the cheese was bubbly. (NOTE: I HIGHLY suggest this dish. It was incredibly amazing. The dairy version I made also got high reviews, but of course that's just gross.... MAKE THIS!)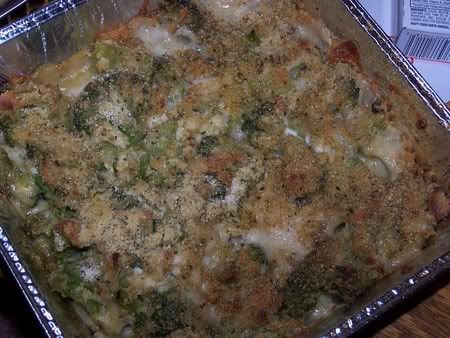 Spinach Yumminess
1 bag of frozen chopped spinach
a little olive oil
1/4 cup bread crumbs.
minced onion
salt, pepper, garlic
vegan parmesean cheese (optional)

Mix everything together. Bake at 425 until it gets crispy. So good.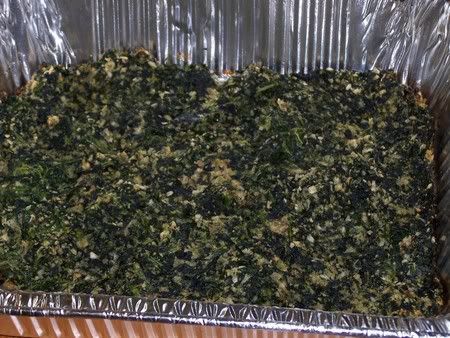 Peas and Mushrooms
1/2 an onion
sliced mushrooms
a bag of frozen peas
salt, pepper, garlic.

saute the onion and mushrooms together with the spices., when onion is soft, add peas. when the peas are soft, it's done.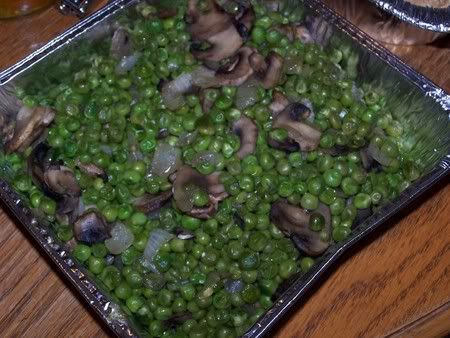 Cranberry Sauce
canned, of course.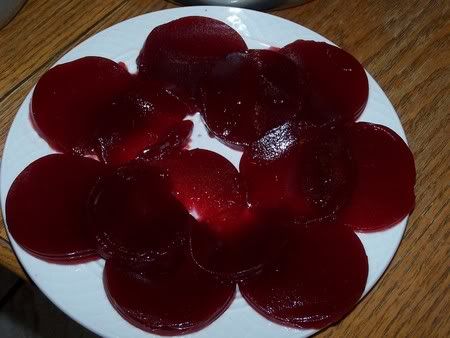 Apple-Cranberry Strudel-Cake
(Note: this was made into cake form instead of a strudel out of laziness)
9 chopped up apples of choice, I think we used Golden Delicious because that's what we have lying around
1 bag of fresh cranberries
1/2 cup raw sugar
cinnamin
1 tablespoon of vanilla extract
1/4 cup melted margerine
puff pastry dough
crushed graham crackers

Peel and chop of the apples. Add the cranberries, melted margerine, sugar, sinnamin, vanilla. Mix together. (You could let this sit on the stove until the fruit gets mushy, or you could just say "to hell with it" like my mom did and bake it raw.) Then, take a pan. Put puff pastry dough on the bottom. Then sprinkle crushed graham crackers on it. Add the fruit mixture. Sprinkle more graham crackers and add the last layer of the puff pastry dough. Bake it until the dough is golden brown. Sprinkle confectioner's sugar on it. If you want to make a strudel out of it, just roll it up.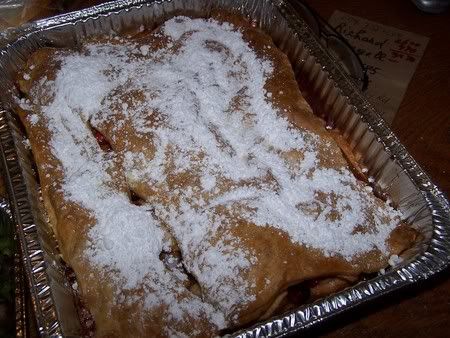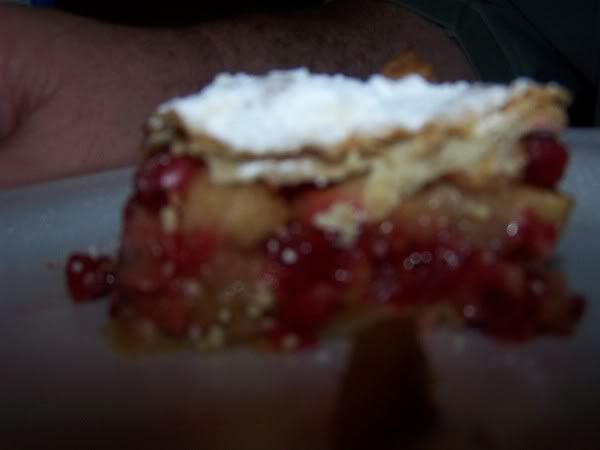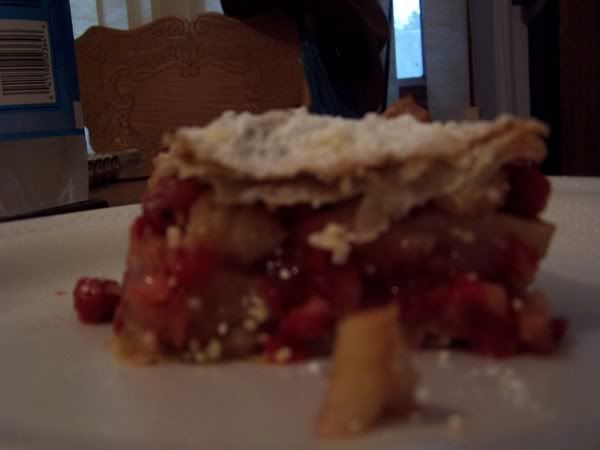 Pumpkin Pie and Pumpkin Cheesecake: Well, let me start out by saying that I am tofu-phobic and only end up with disasters when I cook or bake with tofu. So, this is my Non-Tofu Pumpkin Pie.
1 large can of pumpkin filling
4 eggs worth of Ener-G Egg Replacer
about 1 and 1/2 cup of vanilla soymilk (start off with this and add more if needed, I don't want to be responsible for thinned out pumpkin pies)
about 1 and 1/4 cup of raw sugar (Taste it when its blended and add more if it's not sweet enough..my tastes needed more than this)
2 tablespoons of vanilla extract
1/4 cup of maple syrup
lots and lots of cinnamin and addition to that, pumpkin pie seasoning
pre-made pastry crusts.

Blend everything together in a large bowl. taste it with your finger when everything is blended and make sure that it is sweet enough. Pour it in a thawed out crust. Here's the cheesecake half of it: Take the extra filling and add about a full container of Toffuti cream cheese and blend it together and pour it in the pastry crust. I had extra, so I put it in mini crusts as well.

Bake at 425 (it's just a standard temperature in my parent's house) until it's slightly set and then cool it in the fridge. Add hip whip or your own homeade whipped cream.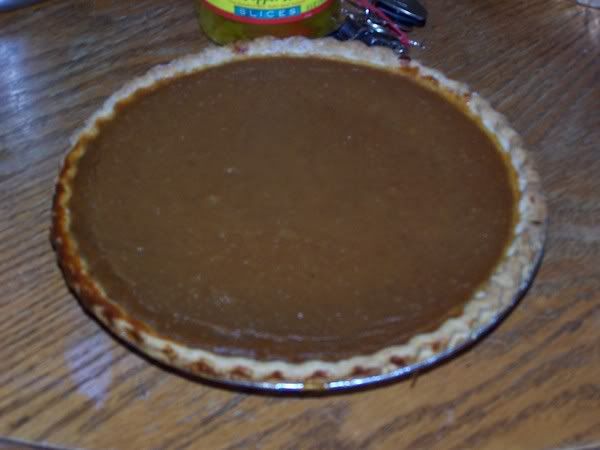 pumpkin pie

pumpkin cheesecake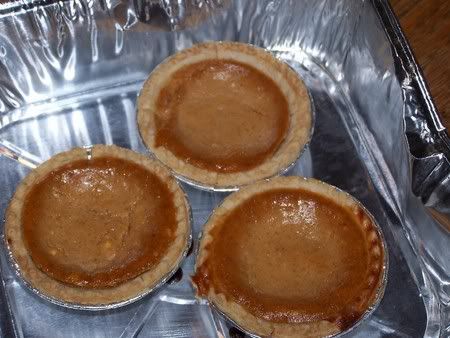 My Plate