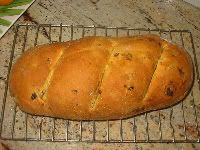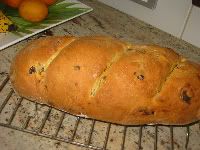 I took a recipe from The Vegan Chef Beverly Lynn Bennett and altered it a bit :)

ingredients
1 pkg active dry or quick rise yeast
3 T sugar
1 1/4 cups warm water
10 or so semi sundried tomatoes
4 cups flour
2 t salt
2 t dried basil
2 t dried oregano
3 sprigs of fresh parsley, or 2 t of dried
half a large onion
3 T olive oil
extra flour

In a small bowl, stir together yeast and sugar. Pour warm water over the yeast and set aside for 10 minutes or until very foamy. Meanwhile, chop onion thinly and fry until clear with a little olive oil in a pan. In a large bowl, combine flour, salt, and herbs. When the yeast mixture is foamy, add it, the sun-dried tomatoes, and the remaining ingredients to the flour mixture. Stir well with a spoon, and use your hands to form into a ball of dough. Turn dough out onto a floured surface and knead until smooth and elastic, about 5 minutes. Place a little olive oil in a bowl, give dough a twist in the bowl, turn over so the greased side is on top, cover, and leave to rise in a warm place for 1 hour or until doubled. Punch dough down and knead for a minute on a floured surface. Roll dough into a large rectangle, starting on the shorter side of the rectangle, roll dough up like a jelly roll cake, tuck in the ends, and pinch the seam to seal. Sprinkle a little flour on to a cookie sheet. Place shaped loaf, seam side down, on the cookie sheet, cover, and leave to rise in a warm place for 45 minutes or until doubled. Using a sharp knife, carefully cut a few diagonal slashes over the top of the loaf. Bake at 425 degrees for 25-30 minutes or until golden brown and sounds hollow when tapped on the bottom. Allow to cool before cutting.