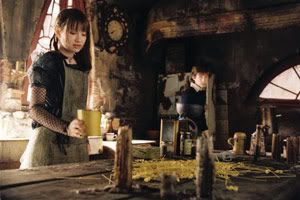 Here we see the most unfortunate Baudelaire orphans Klaus and Violet. They are forced to prepare dinner in a very poorly stocked kitchen. So, they use their ingenuity and scare up some old pasta noodles and some tomato sauce and a couple other things.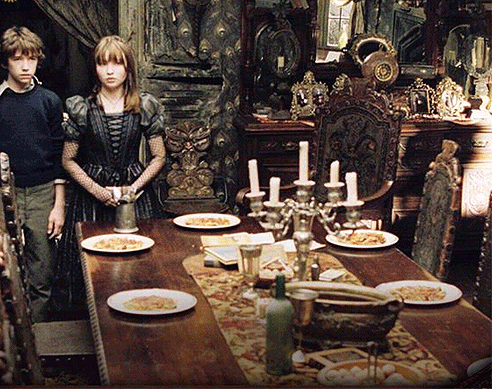 And, viola... From such meager ingredients they prepare pasta puttanesca.




But, the most wicked Count Olaf, who had forced them to prepare dinner, scoffs at the meal. He asks, "Where is the roast beef?" Violet says, "But, you didn't ask for roast beef." And Klaus says, "We made pasta with puttanesca sauce. It's Italian for "very few ingredients." Count Olaf says, "But I wanted roast beef. It is swedish for a cow beef that has been roasted!" And then things get even more unfortunate for the Baudelaire orphans...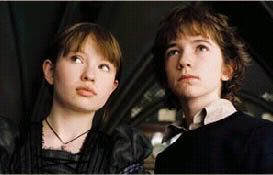 So, be like our protagonists and stick to vegan food. Later on cold cucumber soup is also a prominent dish served up by the good guys. It's the bad guy who demands roasted cow buttocks...



Okay, so pasta puttanesca doesn't actually mean "very few ingredients" in Italian and it also isn't normally vegan since it has anchovies in it a lot of the time. But, the Baudelaires use only tomato sauce. And cold cucumber soup often has dairy or chicken juices in it, but it can easily be made vegan, as well.

"The name puttanesca is a derivation of puttana, which in Italian means "whore." According to one story, the name purportedly comes from the fact that the intense fragrance of this sauce was like a siren's call to the men who visited such "ladies of pleasure."

I'm sure they didn't put that definition of puttanesca in the film because it'd be most inappropriate for wee children to hear. I have no idea how "very few ingedients" got attributed to the definition of puttanesca. I wonder who came up with that, really...

SPAGHETTI ALLA PUTTANESCA Serves 4

This dish with the unrefined name "Spaghetti in the manner of a prostitute" is exceedingly popular-- perhaps because of the speed and ease of its preparation; perhaps because of the wonderful flavors. Anchovies are replaced by miso in this version.

NOTE: This is another pasta dish which is not eaten with cheese.

1 lb. spaghetti
2-3 T. extra-virgin olive oil
2 cloves garlic, sliced
1" piece of dried hot red pepper
2 lbs. ripe plum tomatoes, chopped OR a 18 oz. can of diced tomatoes, drained (save juice)
2/3 c. pitted and sliced black calamata olives
1 T. capers
2 T. light soy or chickpea miso
2 T. chopped fresh Italian parsley
freshly-ground black pepper to taste

Put on a large pot of salted water to boil for the pasta.

In a large heavy skillet or pot, heat the olive oil over medium heat. Add the garlic and hot pepper and cook just until the garlic starts to change color slightly. Add the tomatoes, olives and capers and let simmer while you cook the spaghetti to the al dente stage. (If you are using canned tomatoes and the sauce is too dry, add some of the reserved tomato juice.)

Mash the miso in a small bowl with some of the sauce, then add it back to the sauce and stir well. Taste for salt and pepper. Add the drained pasta, toss well and cook for a minute. Sprinkle with parsley and serve immediately.

Cold Cucumber Soup

2 large cucumbers, peeled and seeded
1 1/4 cups vegan sour cream
(or maybe just rice/soymilk with thickener or soy creamer?)
1 cup vegetable broth
1 small onion, cut into wedges
4 sprigs fresh parsley, stems removed
2 sprigs fresh dill or 1 teaspoon dill weed, stems removed
1 tablespoon lemon juice
1/4 teaspoon white pepper

1. Cut cucumbers into large chunks; place in a blender with remaining ingredients.
2. Puree; pour into bowl.
3. Cover and refrigerate for at least 8 hours.


Haven't seen Lemony Snicket's A Series Of Unfortunate Events??? You are most unfortunate indeed... What're you waiting for? You're over 15 days late! At least look at the website... Or, rather, maybe it would be in your best interest not to...