Last night I decided to give vegan cooking (anything more complex than rice and veggies) another go, and bought the fixins for the ever-popular tofu spinach lasagne.

While I'm not as l337 in the kitchen or with a camera (these are cam-phone pics) as
erica_the_vegan, this did turn out pretty darned good and I have a couple shots of the finished product.

Here it is, right out of the oven. It was actually bubbling and it smelled awesome.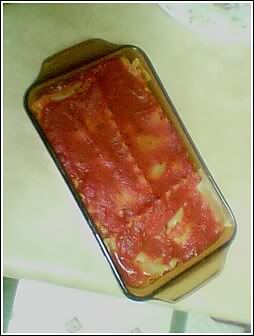 Here's a leftover slice from breakfast (at 2:30pm) today. Because it just sort of flopped out of the pan into the bowl last night--I think I didn't thaw/drain my spinach enough. (Tasted wicked good anyway!) But sitting in the fridge overnight really helped everything to become a little more stable and solid: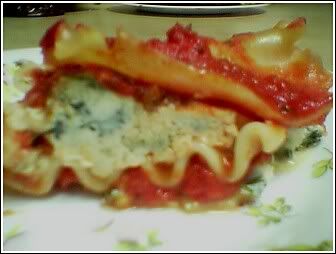 (Not as pretty as it could be, but not bad for someone who's never made lasagne of any sort before.)

I made a few changes to the recipe. As I'm the only person in my family who'll go near tofu, I made a half-batch and used a loaf pan. My grocery store only had firm and extra-firm tofu so I used those two, and I didn't end up using the whole 10oz of spinach. Using about a third of that amount was quite enough to provide both a slight spinach flavor, but the best part was that the little bits of spinach here and there in the filling made the texture much more like cheese. I also added a half-cup in total of Boca crumbles, sprinkling an even amount on each layer of tofu ricotta before continuing the layers as usual.

The best part was that I got my mom to try it, and she liked it! It's so weird that she won't touch something as simple and "normal" as the Duncan Hines box cake I made with tofu rather than eggs, but she decided to try the lasagne when she's not a fan of tofu, spinach, or mock meats. It was a fairly easy recipe as well. So next time you've got a group of skeptical omnis bashing tofu, whip this up for dinner and invite them over. Mmmm...