thanks for all the help before. i made an addicting batch of cookies.
this makes quite a lot of cookies, under the lj-cut you can see the amount of cookies the recipe yields. i scaled the recipe down for next time, because i ended up using four cookie trays and still putting a third of the batter in the freezer. i put the original measurements in bold and what i calculated (hopefully correctly) to be half of the recipe in parenthesis. the cookies are a little bit crumbly. the dough ends up looking pretty moist, so i put in a little more flour, which maybe i shouldn't have done, but the flavor is excellent.

Maple Oatmeal Chocolate Chip Cookies: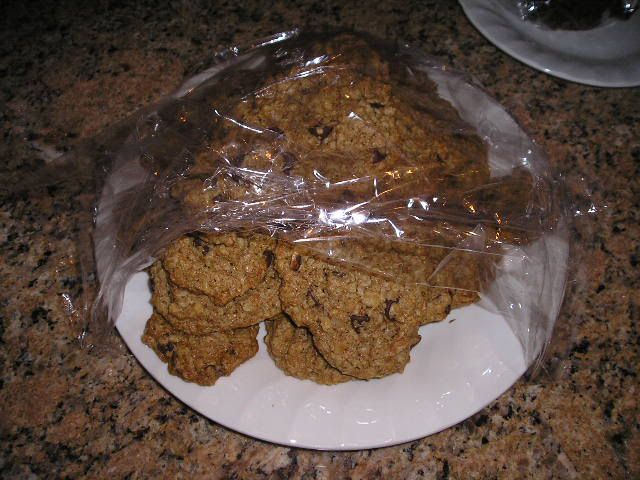 1 1/4 c. (1/2 c. 2 Tbsp.) whole wheat graham flour
1 1/4 c. (1/2 c. 2 Tbsp.) oat flour (2 [1] c. rolled oats food process-ed)
1 1/8 c. (1/2 c. 1 Tbsp.) rolled oats
1 tsp. (1/2 tsp.) salt
1 1/8 tsp (>1/2 tsp.) baking soda
1 1/2 c. (3/4 c.) chopped walnuts
1 1/2 c. (3/4 c.) semisweet (vegan) chocolate chips
1 c. (1/2 c.) maple syrup
1 c. (1/2 c.) canola oil*
1 Tbsp. (1 1/2 tsp.) vanilla extract**
2 Tbsp. (1 Tbsp.) vanilla soymilk/water


Preheat the oven to 350 degrees Fahrenheit.


Combine all of the wet ingredients together in a large bowl, and the dry (sans chocolate chip) in a medium-large bowl.


Add the dry mixture to the wet mixture and mix them until they are just moist. Then add the chocolate chips, just folding them in until they are evenly distributed.


Roll the dough into little balls, or scoop with a cookie scoop and place them on a greased baking sheet, or baking sheet covered in parchment paper. These do not flatten out very much at all, so depending on the size of your cookie sheet, with a regular-sized cookie dough scoop you can fit 9+.


Cook these for around 15 minutes, maybe less. They may not look done, but they are fragile/crumbly cookies anyway, and cooking them for too long results in burnt oatmeal and uncontrollable crumbs. I always let my coagulate for a minute or so, then put them on brown paper bags from the grocery store. They don't get soggy, this way, and the paper ends up absorbing some of the oil.



*i used vegetable oil, but there was only 1/2 c. in the bottle, so ended up using 1/2 c. vegetable oil, 1/2 c. sunflower oil
**i used 1 tsp. almond extract, 2 tsp. vanilla extract, which made the batter taste & smell delicious and i think that twist makes the cookies so addictive