I changed a recipe my mum used to use alot when I was younger :) It's so great to have these again- as a little snack or as a meal with salad etc! They are even nice cold the next day, and good for the lunchbox.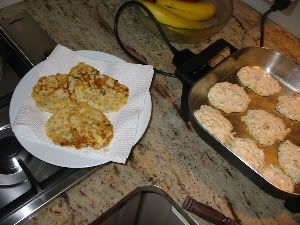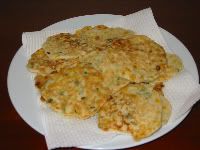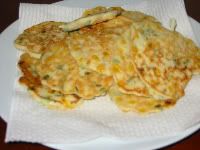 Ingredients
1 cup flour
2 eggs worth of egg replacer
1 cup soy milk
2 cups or so of corn kernels
1/2 cup chopped shallots
1/4 cup melted tofutti cream cheese or 1/2 cup of chopped up soy cheese if preferred
handful of chopped parsley
salt (and pepper if you like it)
oil or vegan marg.

Sift flour into a bowl, stir in combined egg replacer and soy milk, and beat until smooth. Stir in corn, shallots, parsley and soy cheese and a fairly large sprinkle of salt for taste. Heat about two tablespoons of oil or soy marg in pan, and drop large tablespoons of mixture into pan, spreading out slightly. Fry until golden on both sides.
yum yum!