Procrastination = good and, seeing as I'm supposed to be immersing myself in uni work and getting my head round Foucault, I decided what better time to distract myself by having people over for dinner and cooking things.

Now here're where the thankyous come in: firstly to
erica_the_vegan, as I made the basic chili part of the sweet potato and black bean enchilada recipe that was posted a while back. It was fantastic! I didn't make the complete dish, just the main filling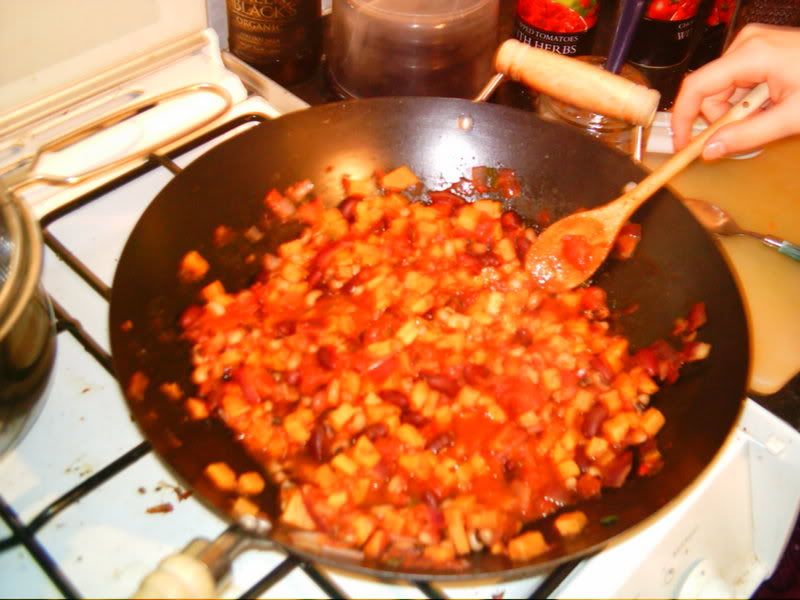 , which I served with guacamole I just made it by sticking 3 avocados, a little silken tofu, a little olive oil, some lemon juice, a sprinkling of paprika and a pinch of salt into the blender, then whizzing it all up...

Along with some grated carrot, sweetcorn, salsa (I'm afraid I was rubbish and bought it) and pitta bread (I couldn't find vegan tortilla wraps, grr)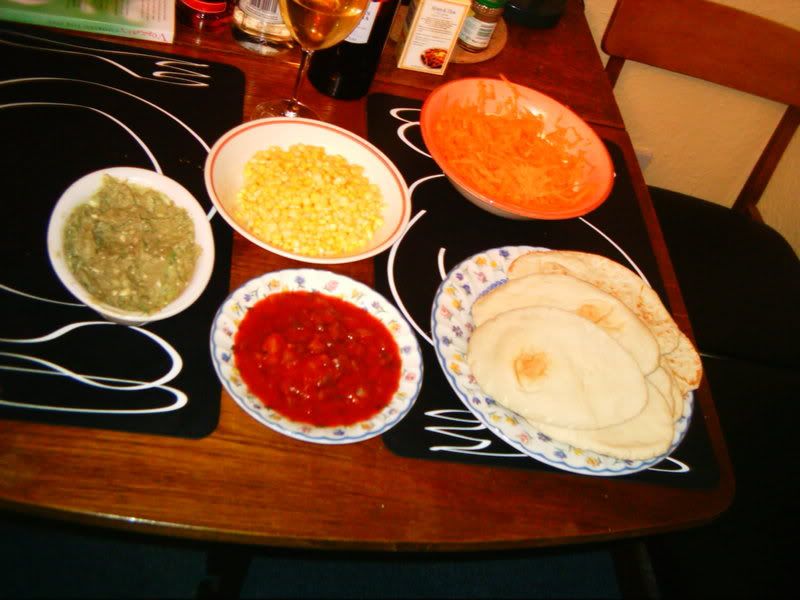 .

I'd also like to say thank you so much to
kittee - as when
vegancooking was down, I found this fantastic cupcake recipe, which I used to make a layer cake instead, and here it is!




It's topped with peanut frosting that I messed around and sort of invented.

1 100g (approx half a cup) bag plain chocolate chips
4 dessert spoons peanut butter
approx 1/2 500g box icing sugar (I think this is about 2 1/2 cups worth...)
coffee!

Reserve some chocolate chips for decoration, then melt the rest by placing them in a bowl over a pan of boiling water, add the peanut butter while they're melting. Stir together until soft and creamy then sieve in the icing sugar. It'll go really lumpy, but slowly add coffee to it, until it reaches the right consistency - somewhere between smooth enough to spread and stiff enough to stick to the cake properly.

I spent a while getting this right, as to begin with it was far too sweet. It's still pretty rich, but through using coffee to make the icing spreadable (instead of soy milk or something) the sweetness is balanced out. It seems to neutralise the sickliness, without really giving it a coffee taste.


Everyone really seemed to enjoy the meal, so thanks to the both of you for your lovely recipes :)

Oh yeah, and apologies for the fairly gash photo quality, despite the best efforts of my lovely flatmate, his camera's not too brilliant so things are a bit blurry...