It happens when you least expect it. Whipping up something nice, go to grab your box of Ener-G Egg Replacer, and it happens.. You have used it all!!! I was making corndogs so I could not be using bananas or applesauce for a substitute, now could I? I frantically did a search on the net and found this:

1 tsp Baking Powder
1/2 tsp Baking Soda
2 Tbsp Flour
3 Tbsp Water

I really dont know where I found this (I was so distraught- fellow foodies, you understand don't you!?), possibly on a vegweb msg board. I even looked through all the FAQ here to make sure this wasnt already posted.

Now, it makes a lot more than 1 Ener-G egg, so I dont know if this is still used to replace only 1 egg. But it was whipped up with peaks in seconds!

I added it to my corndog mixture..

Franken-dogs! The recipe is for 6 dogs, though Ive stretched it for 8 before. This time I had 5 jumbo dogs.. so I decided to make "mini" corn dogs for a bite sized snack. This egg replacer rocked it!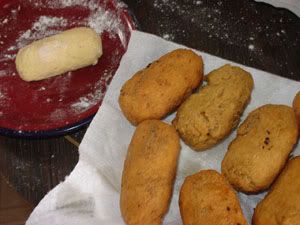 A normal pre-deep fried weenie on the left, normally, they dont get too much bigger.. but as you can see, those suckers expanded good!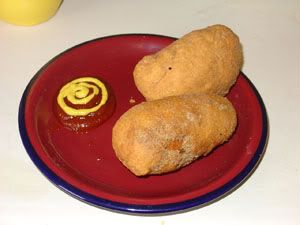 The results? Delicious!! =)


I bet this would be great for big fluffy cookies!!!