It was my flatmate's birthday on Wednesday and I offered to cook him a meal...

He asked for 'that peanutty thing you made yourself the other day', so I made gado gado with a couscous salad and a green salad (recipes here, followed by a chocolate cake with maple-syrup-chocolate-pecan icing!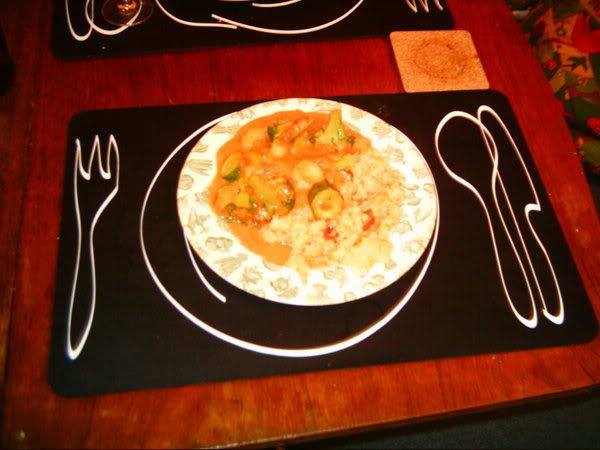 Apologies for the poor photo quality...it looked (and tasted) much better in real life!

I also used slightly different vegetables than in the original recipe: there's leek, brocolli and courgette in the gado gado and there's only grated carrot and chopped red pepper in the couscous.




Again, sorry for crappy photo quality...it tasted fantastic though! (Admittedly it was incredibly bad for you, but worth it.)

the icing
100g dark chocolate (I used green & black's 72% cocoa bar)
6 tbsp maple syrup
1 tbsp unsweetened soy milk
Approx 150g icing sugar

You just make it by boiling a pan of water, then removing the pan from the heat and placing a mixing bowl on top (preferably a glass one). Next place the chocolate and syrup in the bowl, stirring until the chocolate's melted. Take the mixing bowl off the pan, then sieve in the icing sugar and mix together until you get a sort of fudgy topping. Add the soy milk if it's too stiff, or more icing sugar if it's too liquidy. Spread over the cake and top with pecans!


Well, my flatmate was pleased anyway :)