i love cinnamon snaps because they are such an easy cookie to make, and you can bring them anywhere. i'm always afraid someone will be deathly allergic to oatmeal or wheat, which i put in most of my cookies, so these are a great cookie to share with people. they are absolutely amazing right out of the oven, too. they are soft, tasty and my favorite cookie to make. i hope you enjoy them!



Cinnamon Snaps:

based off a recipe from

Vegetarian Planet

by Didi Emmons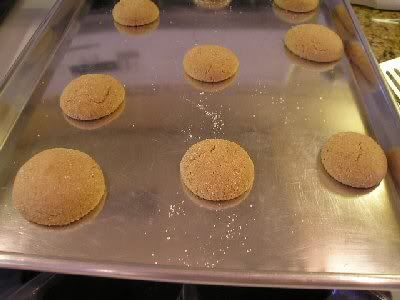 (right out of the oven. a few minutes later, they sink and have adorable crinkly tops.)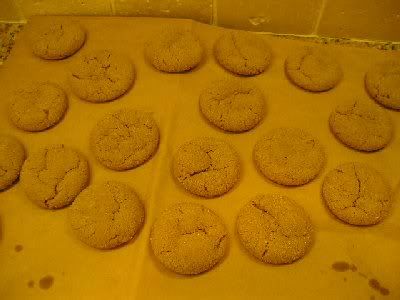 2 cups unbleached white flour
1 ½ teaspoons baking soda
½ teaspoon salt
3 to 4 teaspoons ground cinnamon, to taste
1 teaspoon ground allspice
3/4 cup (1 ½ sticks) vegan butter, softened
½ cup plus 1/3 cup white sugar
½ cup plus 3 tablespoons dark brown sugar
1 ener-g egg or 2 Tbsp. water, 1 tsp. powder


In a small bowl, combine the flour, baking soda, salt, cinnamon, and allspice, and mix well.


With an electric mixer or by hand, beat the margarine. When it is creamy, add the ½ cup white sugar and all of the brown sugar. Beat the mixture until it is soft and fluffy. Add the "egg", and beat well again.


With a wooden spoon, stir the flour mixture into the butter and sugar, bit by bit, until the flour is completely incorporated. Chill the dough for at least 30 minutes for easier rolling. It's unnecessary, though.


Preheat the oven to 350°. Put the remaining 1/3 cup white sugar onto a plate. Form the dough into 1-inch balls, and roll each ball in the sugar. Place the cookies at least 3 inches apart on an ungreased baking sheet, and lightly press down on each cookie. Bake the cookies for 8 to 12 minutes, then let them cool on racks.



it is supposed to make 24 cookies. however, i make small cookies and ended up with a little less than 48. they spread a tiny bit during cooking, almost like they would if you were to flatten them.